FEST Food – Visit all of the Tents!
Brothy Ramen and Teriyaki Pork
Brothy Ramen and Teriyaki Pork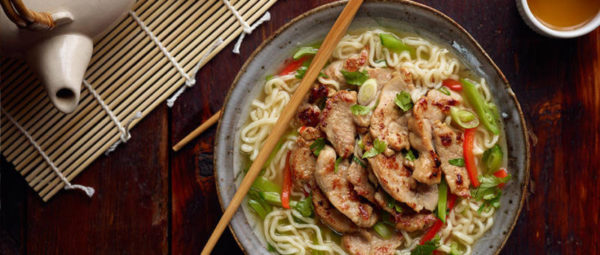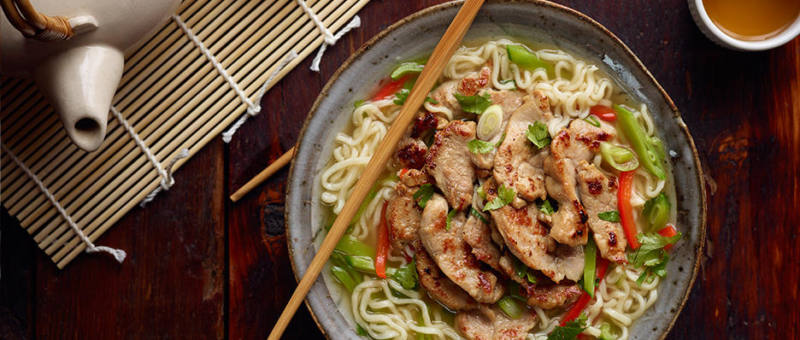 Ingredients
1/3 cup

chopped fresh cilantro

1

Smithfield® Sweet Teriyaki Pork Tenderloin, cut into thin slices

2 tablespoons

canola oil, divided

3 (14-oz.) cans

reduced-sodium or regular chicken broth

2 (3-oz.) pkg.

Ramen noodles, discard seasoning packets

3/4 cup

snow peas, cut in half diagonally (or asparagus, cut into 1-inch pieces)

1/2 red bell pepper

cut into matchstick pieces

1/8 teaspoon

dried red pepper flakes

3/4 cup

chopped green onion

1/3 cup

chopped fresh basil

1 tablespoons

grated fresh ginger

1

lime, cut into 4 wedges
Directions
1. Cut thin slices of pork into ¼-inch wide strips. Heat 1 tablespoon oil in a large skillet over Medium-High. Working in two batches, stir-fry half the pork 7 to 8 minutes or until well browned. Set aside on separate plate.
2. Repeat with remaining 1 tablespoon oil and pork slices.
3. Meanwhile, bring broth to a boil in large saucepan over high heat. Slightly crush Ramen noodles and add with peas, red bell pepper and pepper flakes; cook 3 minutes, stirring occasionally. Remove from heat, stir in the onions, basil and ginger.
4. Spoon noodle mixture into bowls. Top with pork. Squeeze lime juice evenly over all. Sprinkle with cilantro. Salt to taste.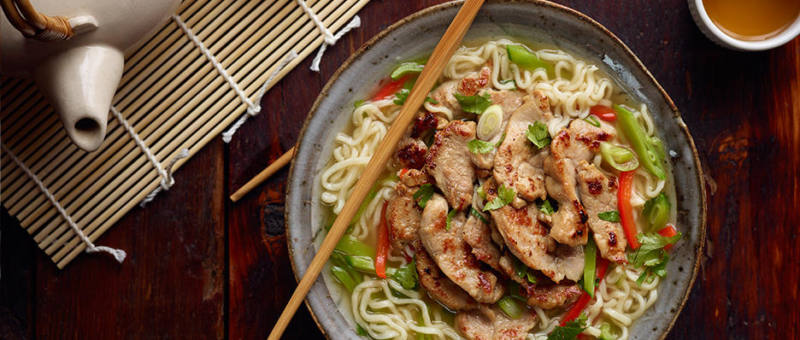 Grilled Pork Loin Fajitas
Grilled Pork Loin Fajitas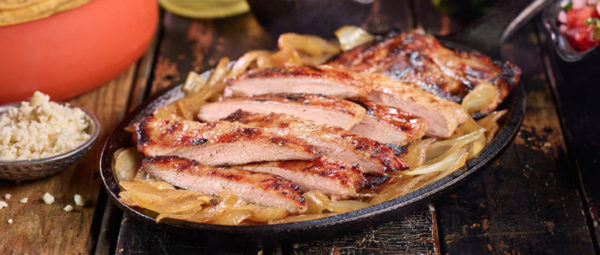 Ingredients
1

Smithfield® Fresh Pork Boneless Pork Sirloin or Loin Roast (about 2 lbs.), cut into 1-inch thick steaks

6 cloves

garlic

1/4 cup

white wine

1 teaspoon

salt

1 cup

unsalted butter, room temperature

2

large onions, cut into 1/2 -inch wide strips

1 tablespoon

corn oil

1.5 cups

water, divided

1 cup

soy sauce

1

(6-oz.) can pineapple juice

12

flour or corn tortillas
Desired toppers like guacamole, sour cream, pico de gallo and shredded cheese
Directions
1. Place garlic, white wine and salt in blender; pulse until thoroughly blended. Whisk softened butter and slowly incorporate garlic and wine mixture. Reserve at room temperature for later use.
2. Sauté onions in corn oil in large skillet over high heat for 2 minutes until they begin to turn deep brown. Add 1/2 cup water to skillet and lower heat to medium-low. Cook and stir, scraping bits from bottom of pan, for 15 minutes until water has evaporated and onions are caramelized. Season to taste with salt and pepper.
3. Using a meat mallet, pound pork steaks until 1/2-inch thick; place in 1 gallon resealable plastic food storage bag. Pour remaining 1 cup water, soy sauce and pineapple juice over pork; seal bag and lay flat in refrigerator for 30 minutes, turning occasionally.
4. Heat charcoal or gas grill for indirect cooking at 300°F. Lightly grease grill grates.
5. Remove pork from marinade and place on grill over indirect heat for 4 to 6 minutes per side until internal temperature reaches 145°F to 160°F. Remove steaks from heat and brush garlic butter on both sides. Let stand 5 minutes; slice into 3-inch long thin strips.
6. While grill is still hot, reheat caramelized onions in its skillet and grill tortillas individually. Wrap 4 tortillas at a time in aluminum foil with a little garlic butter.
7. Serve fajitas with caramelized onions, guacamole, sour cream, pico de gallo and shredded cheese.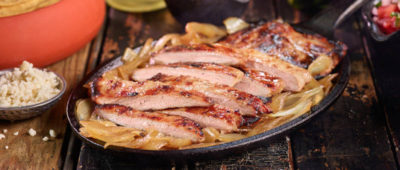 Carnitas Tacos
Carnitas Tacos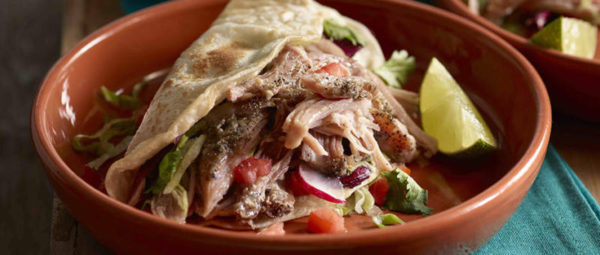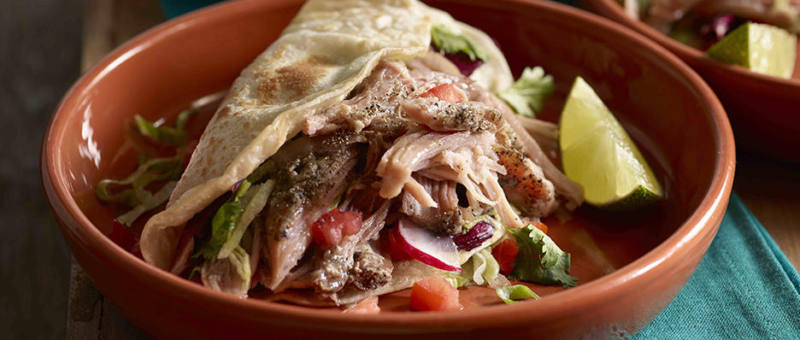 Ingredients
3 lb.

Smithfield® Fresh Pork Boneless Shoulder Picnic Roast, cut into 6 pieces
Desired toppers (cabbage or lettuce, avocado, cheese, tomatoes, radishes, salsa, cilantro)

2 teaspoons

ground black pepper

2 teaspoons

garlic powder

2 teaspoons

onion powder

1.5 teaspoons

salt

1/2 teaspoon

ground Mexican oregano

1/2 teaspoon

dried cilantro leaves

1/4 teaspoon

ground cumin
Hard or soft taco shells
Instructions
1. Combine seasonings in small bowl; mix well. Place pork shoulder in 3- to 4-quart slow cooker. Cover and cook on Low 10 to 12 hours (High: 5 to 6 hours).
2. Remove pork from slow cooker with tongs and place in large container. Use tongs, two forks or fingers to shred pork.
3. Fill taco shells with meat and top as desired. Cover and refrigerate or freeze remaining pulled pork for later usage.
Makes 12 tacos plus extra for another meal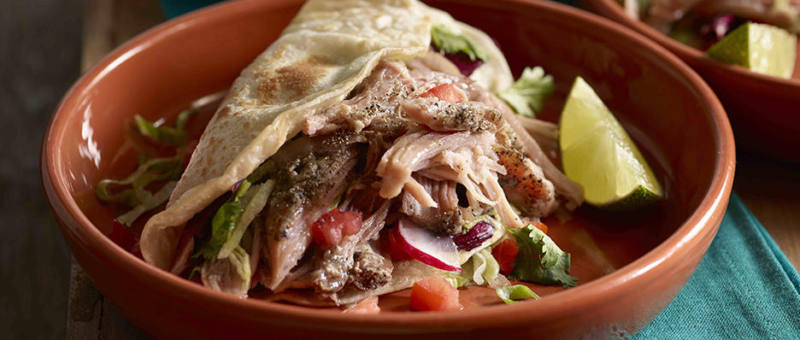 Chicken and Grape Kebabs with Thyme
Chicken and Grape Kebabs with Thyme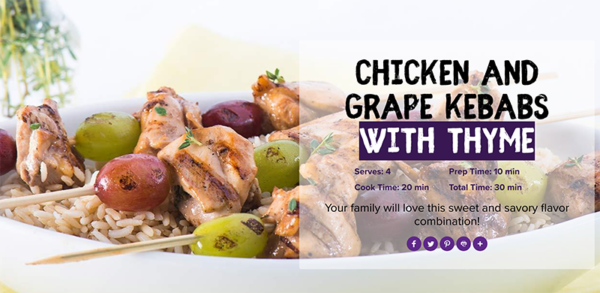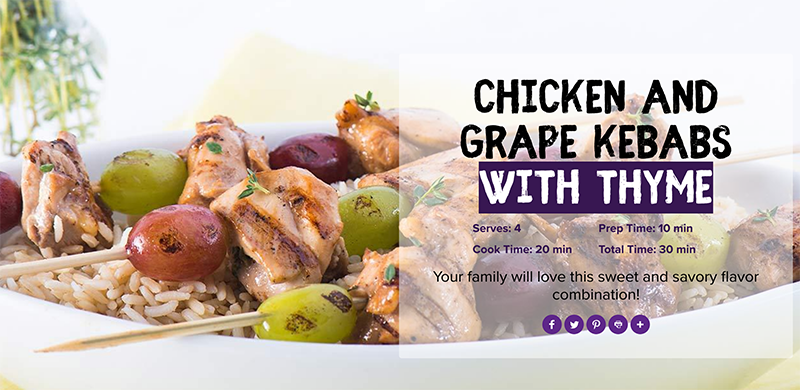 Preparation
Put the extra virgin olive oil, yogurt, Welch's 100% Grape Juice, thyme, bay leaf and garlic into a large sealable plastic freezer bag. Add ½ teaspoon salt and ¼ teaspoon pepper to the marinade and stir to combine. Add the chicken pieces and marinate for 30 minutes or up to 4 hours.
Remove the chicken from the fridge 20 minutes before cooking. Remove pieces from the marinade and pat them dry; set aside on a clean plate. Meanwhile, submerge 4 skewers in cold water for 10 minutes; this helps prevent flare-ups on the grill.
Onto each skewer thread a piece of chicken followed by a grape; repeat until the chicken and grapes are used up. Meanwhile, preheat a lightly oiled grill to medium-high heat.
Transfer the chicken skewers to the grill and cook for 4 minutes per side until completely cooked, about 16 minutes total. Let the skewers rest for 10 minutes before serving.
1 lb. boneless chicken thighs, cut into 1-inch pieces
¼ cup extra virgin olive oil
¼ cup plain yogurt
1 cup Welch's 100% Grape Juice
4 sprigs fresh thyme
1 bay leaf
3 cloves garlic, smashed
1 cup Welch's grapes
1 red onion, coarsely chopped
Salt and pepper
Cooking spray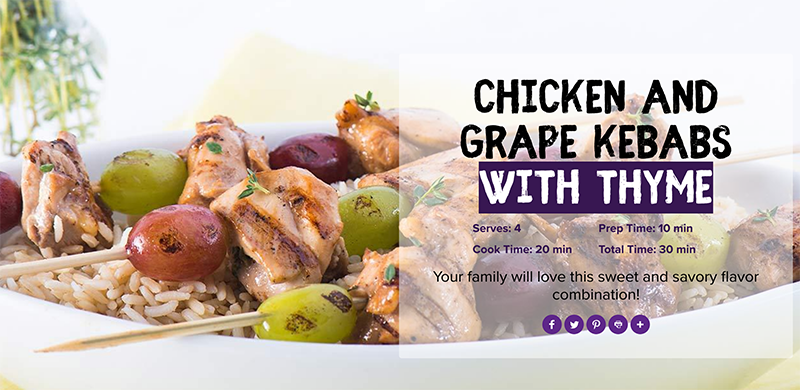 Produce-Packed Pizza
Produce-Packed Pizza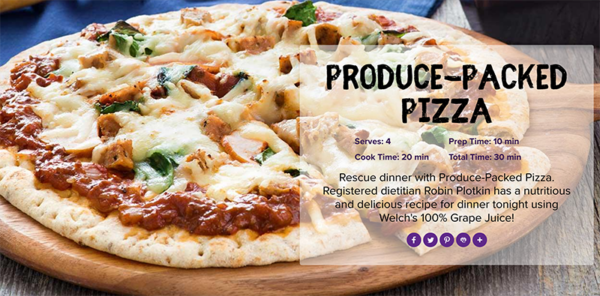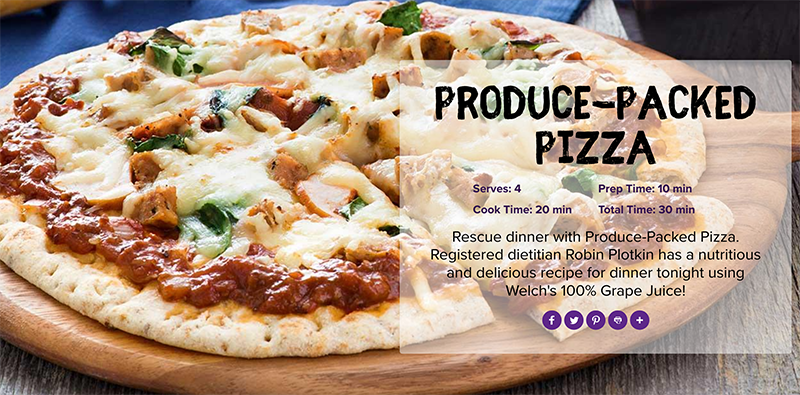 Preparation
Pasta Sauce
Spray a non-stick sauté pan with non-stick cooking spray.
Over medium heat, add onions and garlic to the sauté pan and sauté until translucent, stirring frequently.
Meanwhile, in a large pot over medium heat, empty contents of tomatoes (including juice).
Using a whisk, gently break up the whole tomatoes into medium-sized pieces.
Add onion and garlic mixture to tomatoes and stir.
Add Welch's 100% grape juice, ground flaxseed, oregano thyme, crushed red pepper, salt and pepper.
Allow to simmer for 15 minutes; adjust seasonings.
Pizza
Prepare pre-made crust according to directions. (If using Trader Joe's pizza dough, I suggest par-baking the crust for 8-10 minutes.)
Lightly cover pizza pan or pizza stone with cornmeal.
Place crust on pizza pan or pizza stone.
Spread ¼–½ cup sauce on the crust.
Top with preferred toppings.
Bake until cheese is warm and bubbly.
Recipe created by: Robin Plotkin, RD, LD
Pasta Sauce
1 – 28 oz. can whole, peeled tomatoes (Cento San Marzano or other low sodium whole, peeled tomato variety)
½ white or yellow onion, diced
2 cloves garlic, minced
Non-stick cooking spray
2 tbsp flaxseed, ground
⅓ cup Welch's 100% Grape Juice
½ tsp oregano
½ tsp thyme
⅛ tsp crushed red pepper flakes or to taste
¼ tsp salt
8 grinds fresh ground pepper
Pizza
½ cup pasta sauce (see sauce recipe above)
Turkey pepperoni slices
Chicken apple sausages, cooked and chopped into small dice
Fresh spinach
Shredded cheese
Pre-made 100% whole wheat pizza crust
Cornmeal (if desired)
Any additional toppings your family prefers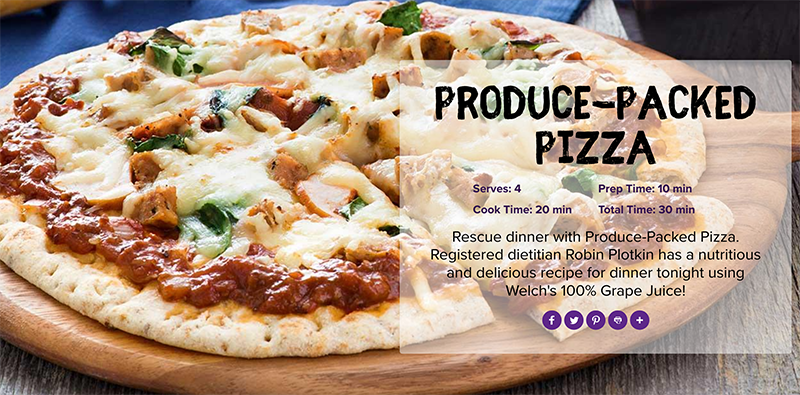 Salad with Grape Yogurt Dressing
Grape and Cheddar Salad with Grape Yogurt Dressing
Preparation
To make the dressing, pour the grape juice into a saucepan. Turn on the burner and bring to a boil. Simmer the juice on medium heat and reduce it to a couple of tablespoons, about 4 minutes. Syrup will be thick and bubbly. Using a spatula, transfer the syrup to a small bowl and place in the freezer to chill for about 10 minutes.
When fully cooled, remove from the freezer and whisk in yogurt, vinegar and mustard until the dressing is smooth. Season with salt and pepper to taste. Use immediately or cover and refrigerate until needed.
Divide the salad greens and halved grapes between 2 dinner plates. Drizzle some of dressing over each salad and top with cheddar cheese. Serve and enjoy immediately.
Recipe created by: Cabot Creamery Cooperative
For the Dressing
½ cup Welch's 100% Grape Juice
¼ cup plain low-fat Greek yogurt
½ tsp balsamic vinegar
½ tsp Dijon mustard
Salt and ground black pepper to taste
For the Salad
3 cups fresh baby greens — such as arugula, romaine or spinach (washed and spun)
1 cup red or green seedless grapes, washed and halved
⅓ cup (about 1 oz.) reduced-fat sharp cheddar, shredded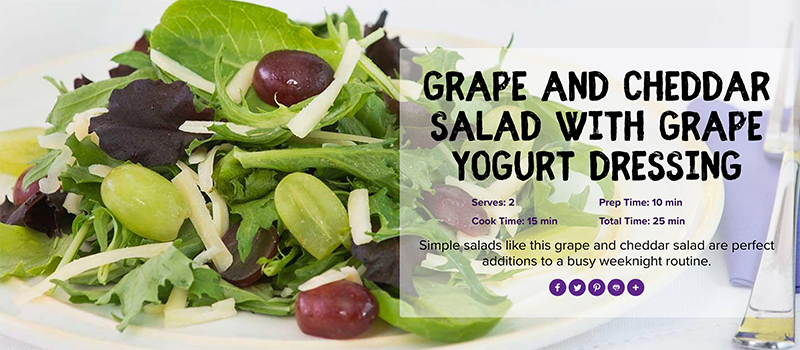 Quick Turkey Springtime Pasta
Quick Turkey Springtime Pasta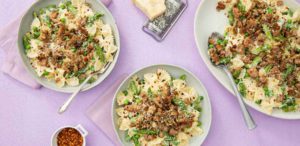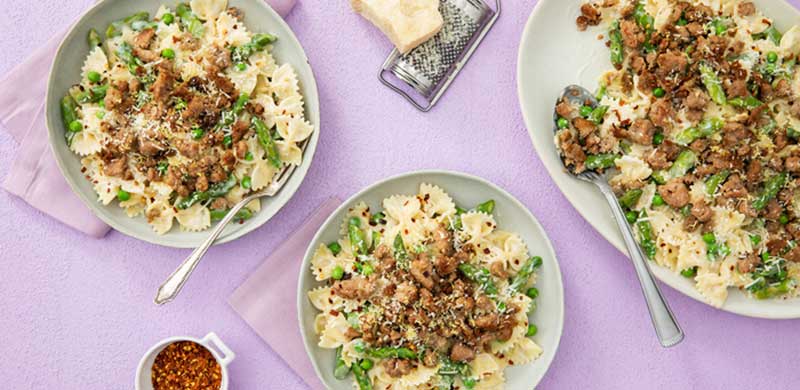 Ingredients
12 ounces (about 5 cups) uncooked bowtie (farfalle) pasta
1 pound asparagus, trimmed and cut diagonally into 1-inch pieces
½ cup frozen petite peas
1 pound BUTTERBALL® Fresh All Natural Ground Turkey
1 tablespoon cornstarch
1½ teaspoons garlic salt
1 teaspoon fennel seeds
¼ teaspoon red pepper flakes, plus additional for garnish
2 teaspoons vegetable oil
1 container (15 ounces) refrigerated Alfredo sauce
¼ cup whole milk or water
2 teaspoons fresh lemon juice
½ cup finely shredded Parmesan cheese
1 teaspoon lemon peel
Directions
Cook pasta according to package directions, adding asparagus during last 4 minutes of cooking. Stir in peas; drain pasta mixture.

Gently combine turkey, cornstarch, garlic salt, fennel seeds and ¼ teaspoon red pepper flakes in medium bowl.

Heat oil in large skillet over medium-high heat. Add half of turkey mixture; cook and stir, breaking up turkey into small crumble-size pieces. Cook 5 to 6 minutes or until browned, stirring occasionally. Transfer browned turkey to another medium bowl. Repeat with remaining turkey mixture, and keep warm.
Combine Alfredo sauce, milk and lemon juice in same skillet over medium-low heat, stirring occasionally. Add pasta mixture; stir gently to coat. Divide pasta mixture among serving bowls; top evenly with turkey mixture. Sprinkle with cheese and lemon peel. Garnish with additional red pepper flakes.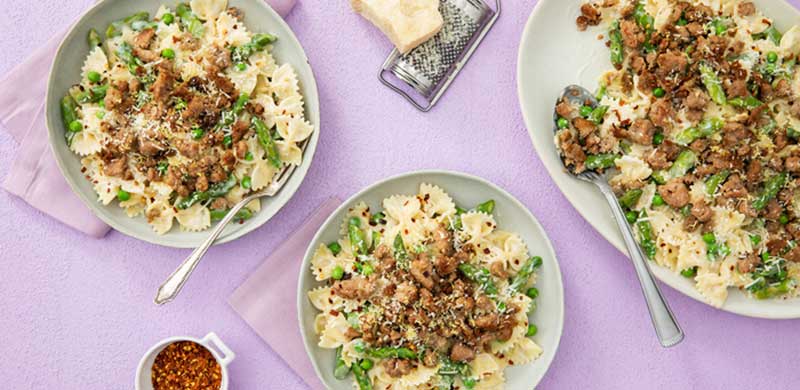 Turkey Meatball Noodle Soup
Turkey Meatball Noodle Soup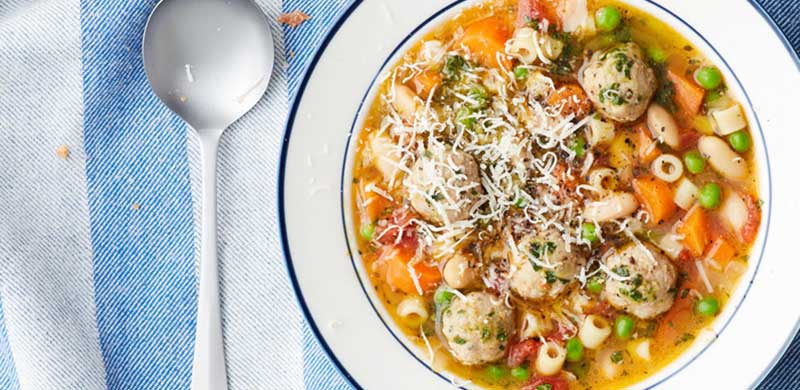 Ingredients
2 tablespoons olive oil
1 onion, chopped
1 carrot, peeled and chopped
6 cups chicken broth
1 can (about 14 ounces) diced tomatoes
1 can (about 15 ounces) cannellini beans, rinsed and drained
1 pound BUTTERBALL® Fresh Ground Turkey
2 eggs
2 teaspoons dried parsley
2 teaspoons ground coriander
1 teaspoon black pepper
¾ cup uncooked ditalini or other small pasta
1 cup frozen peas
1 tablespoon basil pesto
1 tablespoon grated parmesan
Directions
Heat oil in large pot over medium heat; add onion and carrot. Cook, stirring occasionally, about 5 minutes or until translucent around edges. Pour broth into pot with vegetables; add tomatoes and beans. Increase heat to medium-high.

Combine turkey, eggs, parsley, coriander, black pepper in large bowl; mix lightly. Form 32 (1-inch) meatballs.
As mixture begins to simmer, drop meatballs into broth, dispersing them around the pot. Once liquid comes to a full boil, add pasta. Reduce heat to maintain a simmer. Cook, stirring occasionally, about 10 minutes or until nothing sticks to bottom of pot, pasta is tender, and meatballs are cooked through. Stir in peas; simmer 1 minute to heat through. Drizzle with pesto and sprinkle with cheese. Serve with crusty bread and enjoy!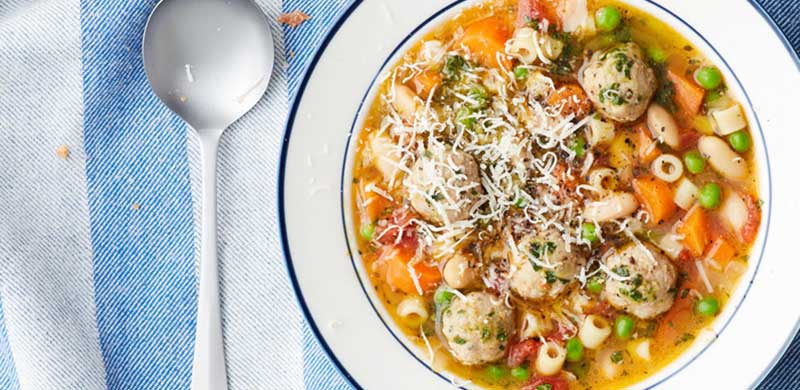 Mashed Cauliflower Bake
Mashed Cauliflower Bake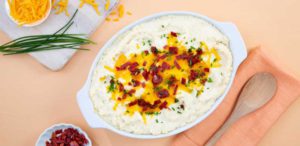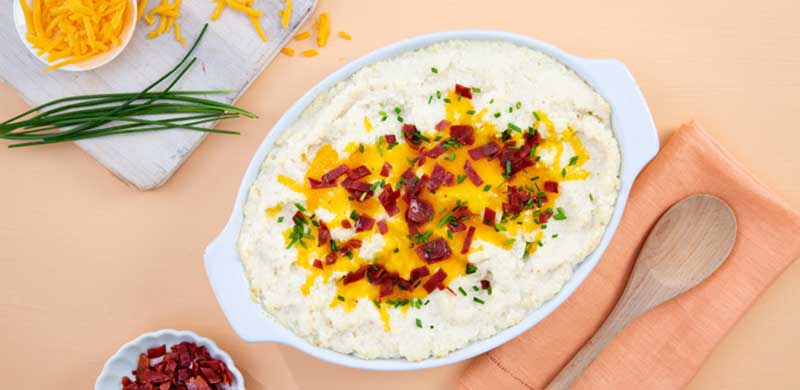 Ingredients
4 pounds cauliflower, cut into florets
2 tablespoons olive oil
1 teaspoon kosher salt
⅓ cup half-and-half
4 ounces cream cheese, softened
¼ cup (1/2 stick) unsalted butter
2 tablespoons sliced fresh chives
¼ cup sour cream
1 cup (4 ounces) shredded sharp Cheddar cheese
⅓ cup chopped cooked BUTTERBALL® Original Turkey Bacon
Directions
Preheat oven to 400°F. Grease 2-quart casserole or baking dish. Place cauliflower on two baking sheets and drizzle evenly with oil.

Bake 25 minutes or until golden brown. (The browner the cauliflower, the darker the dish will be.) Remove from oven; reduce oven temperature to 350°F.

In batches, process cauliflower in work bowl of food processor with salt, half-and-half and cream cheese. Transfer cauliflower mixture to large bowl, and stir in butter, chives and sour cream.

Spoon cauliflower mixture into prepared casserole dish. Top with cheese and bacon.

Bake 20 to 25 minutes. Serve warm.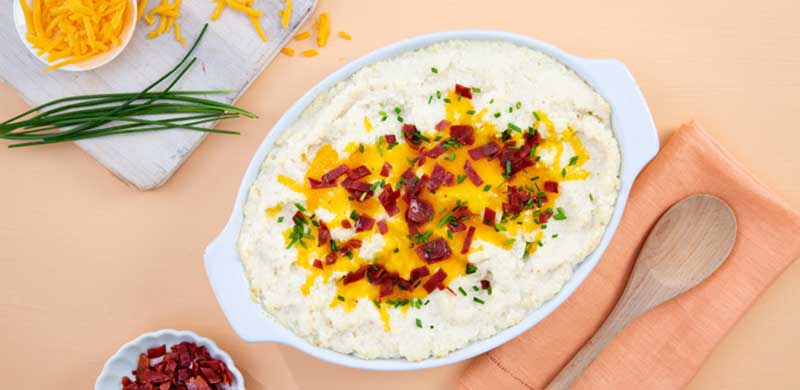 Asparagus Roll-Ups
Asparagus Roll-Ups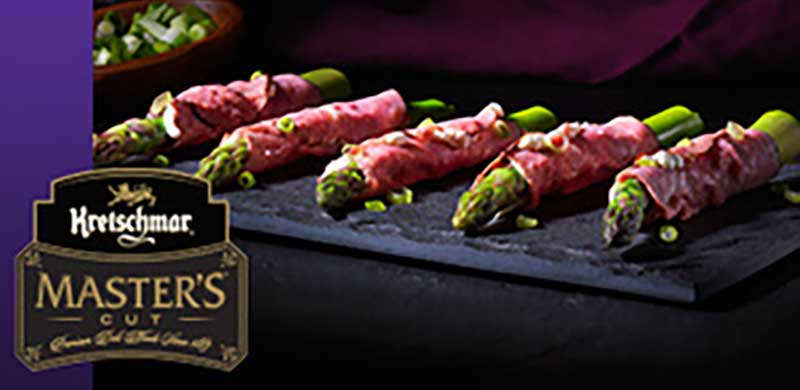 Ingredients
12 thin slices of Kretschmar Medium Rare Roast Beef
12 Asparagus Spears, trimmed to 4 inches long
1 cup Whipped Cream Cheese
2-3 Tbsp. Horseradish
1 Scallion, chopped
Direction
Boil and cook asparagus in a pot of water until crisp-tender, about 2-3 minutes. Immediately remove asparagus from the pot to a bowl of ice water to cool. Then transfer the asparagus onto paper towels to dry.
Mix together the cream cheese and the horseradish.
Carefully spread each slice of Kretschmar Eye of Round Roast Beef with the horseradish mixture. Place an asparagus spear at one end of each slice of roast beef and roll up.
Sprinkle with scallions.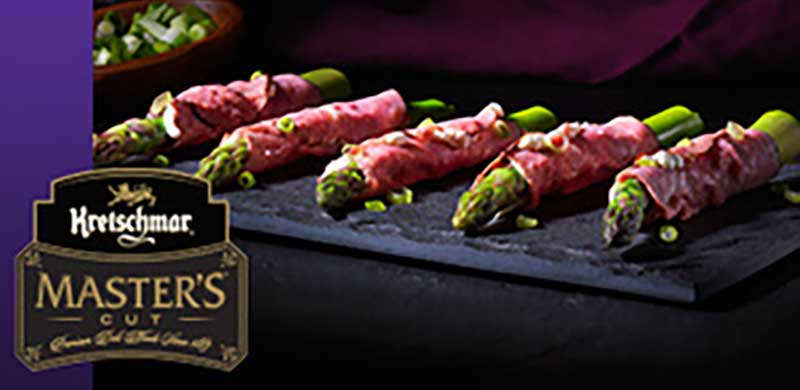 Maple & Brown Sugar Ham, Egg & Cheese Quesadillas
Maple & Brown Sugar Ham, Egg & Cheese Quesadillas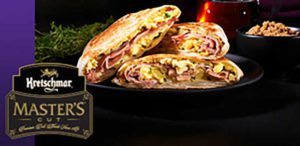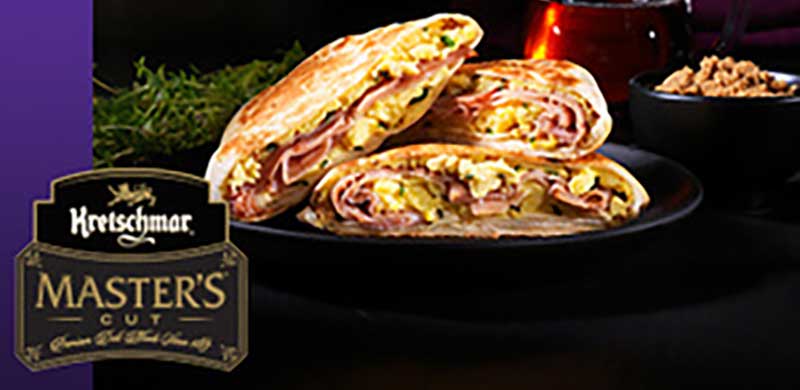 Ingredients
24 slices (about 1 pound) thinly sliced Kretschmar Master's Cut Maple & Brown Sugar Ham
18 large Eggs
1 cup Whole Milk
1 Tbsp. Unsalted Butter
12 (10-inch) Flour Tortillas
1/4 cup Whole Seed Mustard
Fresh Thyme Leaves from 4-5 sprigs
12 slices of Kretschmar Swiss Cheese
Instructions
In a large bowl, whisk the eggs until frothy. Whisk in the milk and fresh thyme leaves until just combined.

In a large nonstick skillet, heat the butter over medium-low heat until melted. Pour in the egg mixture and scramble. Transfer the eggs to a plate or bowl.

Wipe out the pan and heat over medium heat. Meanwhile, assemble the quesadillas.

Stack the tortillas on a microwave-safe plate and cover with a damp paper towel. Microwave until soft and pliable, about 30 seconds.
Assembly
Place the tortillas on a work surface. Spread about 1 teaspoon of the mustard over the center of each tortilla. Top each tortilla with one slice of Kretschmar Maple & Brown Sugar Ham. Divide the eggs among the tortillas, spreading into an even layer but leaving a 1 1/2-inch border. Place a slice of Kretschmar Swiss Cheese over the top of the eggs. Top each with one more slice of ham.
To fold the quesadillas, fold the top of the tortilla down over the filling toward the center. Holding that piece down and working clockwise, continue folding the rest of the tortilla toward the middle until the filling is completely covered, making about 5 folds. Carefully flip the quesadilla over and repeat with the remaining tortillas.
Place the quesadillas, folded-side down, in the heated pan. Cook until browned, 4 to 5 minutes on each side. Repeat until all the quesadillas are cooked.
Freezing & Reheating:
The quesadillas can be wrapped in foil and stored in a resealable plastic bag for up to 3 days in the refrigerator or 3 months in the freezer.
To reheat, place uncovered quesadilla in 325° oven for 20 minutes (if from refrigerated) or 30 minutes (if from frozen).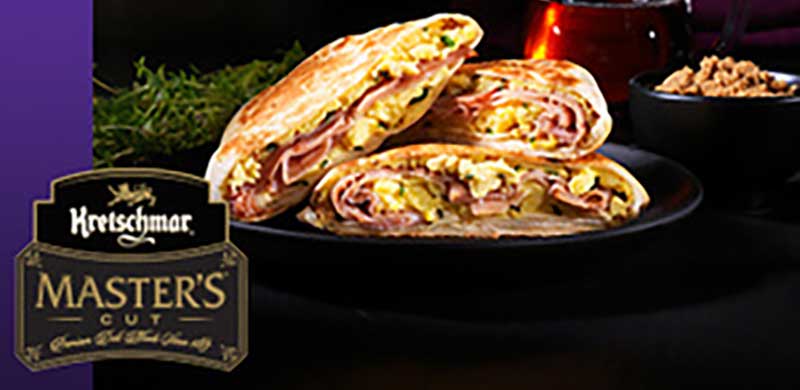 Buffalo Chicken Mac-And-Cheese
Buffalo Chicken Mac-And-Cheese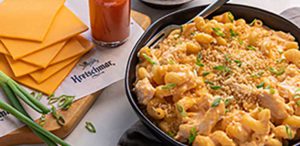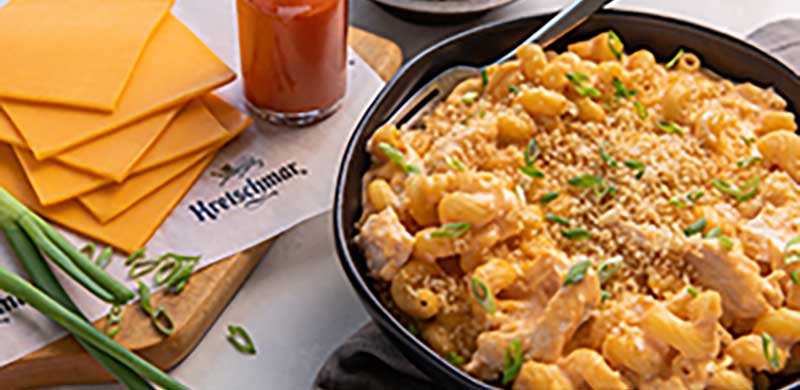 Ingredients
For mac-and-cheese:
16 oz dry short pasta, such as cavatappi, fusilli, small shells or elbow macaroni
6 tbsp all-purpose flour
3 cups milk
1 tsp kosher salt
1 tsp freshly ground black pepper
1 tsp ground mustard
4 oz cream cheese (115g)
1 cup shredded mozzarella cheese
8 ounces Kretschmar Mild Cheddar, roughly chopped
1/2 cup sour cream (80g)
1/2 cup buffalo hot sauce, plus more to taste
2 cups Kretschmar All Natural Pulled Chicken (200g)
Sliced green onions, for serving
For panko topping:
2 tbsp unsalted butter
1/2 cup panko breadcrumbs
Kosher salt, to taste
Instructions
Cook pasta al dente, according to package directions, in salted water, and drain. Meanwhile, melt butter in large pot over medium heat. Whisk in flour and cook 2 minutes. Whisk in milk, salt, pepper and mustard and bring to simmer. Reduce heat to medium-low and continue to simmer until mixture starts to thicken, about 5 minutes.
While sauce cooks, melt butter for panko topping in small skillet over medium heat. Add panko and cook, shaking pan occasionally, until breadcrumbs are golden brown. Season with salt, to taste, and set aside.
Once sauce has thickened, reduce heat to low and stir in cream cheese, mozzarella, cheddar, and sour cream. Continue to mix until cheese is melted and mixture is smooth. Stir in buffalo sauce and pulled chicken. Add cooked and drained pasta and stir until well-combined and coated in buffalo cheese sauce. Taste and add additional buffalo sauce for extra spice. Serve immediately, topped with toasted panko topping and green onions.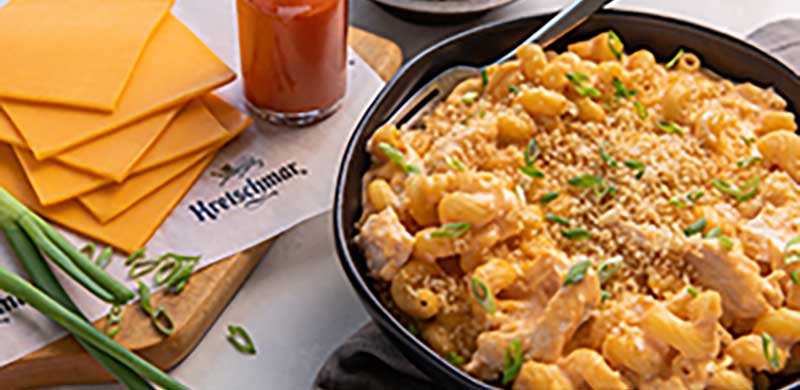 Irish Corned Beef Dog
Irish Corned Beef Dog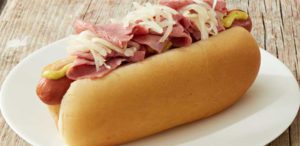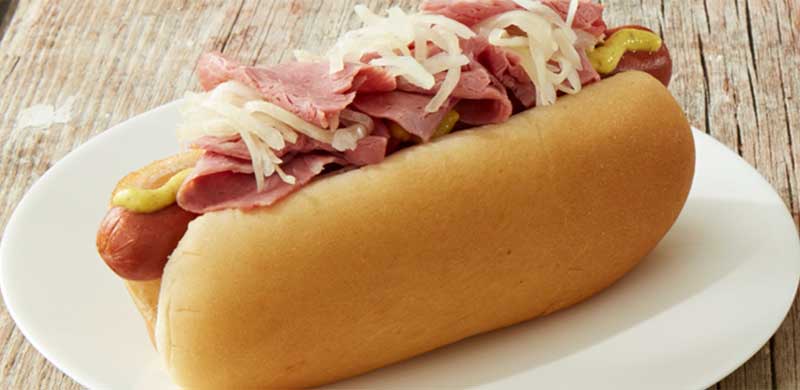 Preparation
STEP 1
Cook your hot dogs your favorite way. We suggest pan-fried with butter! See how to cook the perfect hot dog.
STEP 2
Assemble your dog! Nestle dog into the bun. Drizzle the entire dog with your favorite spicy mustard, like Nathan's Spicy Brown Mustard.
Generously layer sliced or shredded Nathan's corned beef over dog, then top with tangy Nathan's New York Cut Sauerkraut. Important note: don't skimp on the corned beef – it's what gives this signature recipe its true Irish flavor.
Famous Tip: Need to add a little green to make it feel like a traditional St. Patty's Day meal? Try our Nathan's Famous Pickles! Sweet, sour or spicy, a juicy Nathan's pickle is the perfect green side to your Irish Corned Beef Dog. Or go a little "Chicago Irish" and add that pickle slice or spear right alongside the dog itself!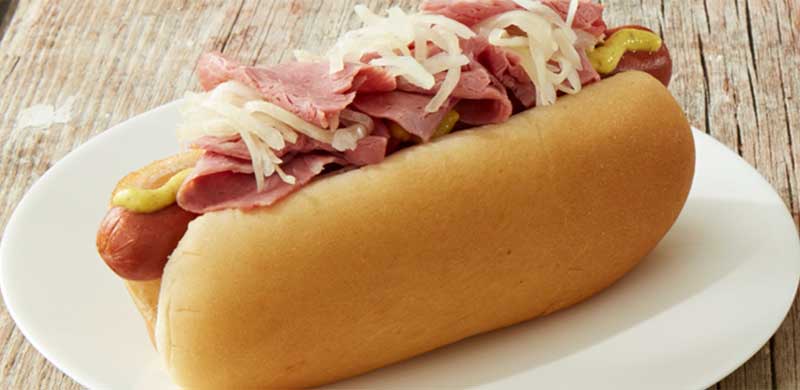 California Dreamin' Dog
California Dreamin' Dog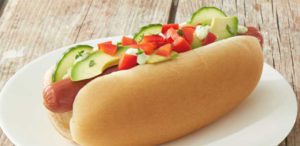 Preparation
STEP 1
Prep your veggies. Wash and dry all.
For the avocado, cut in half around the seed, then rotate and cut around again to create quarters. Separate the quarters and remove seed. Peel the skin away from each segment, then cut into thin slices.
Cucumbers can be sliced with the skin on or removed – your choice! Whichever you choose, slice the cucumber into rounds, then cut each round in half.
For the bell pepper, cut off the top and bottom, then halve. Cut away the membrane and seeds, then dice. Cilantro should be thoroughly dried (squeeze excess water out if needed), then finely chopped. Zest the lime.
STEP 2
Cook your hot dogs your favorite way. We suggest pan-fried with butter! See how to cook the perfect hot dog.
STEP 3
Assemble your dog! Nestle dog into the bun, then arrange avocado and cucumber slices alongside. Top with bell pepper and cilantro, then sprinkle lime zest over all.
Optional: Want to add even more West Coast freshness? Finish with a generous drizzle of green goddess to cover.
Loaded Breakfast Dog
Loaded Breakfast Dog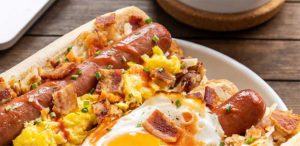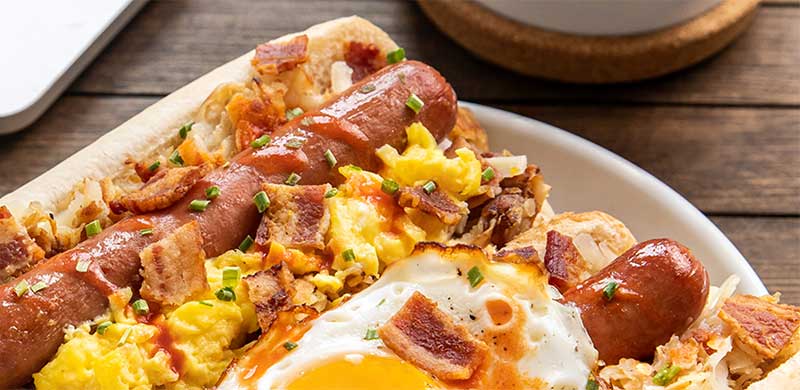 Ingredients
1 PACK SKINLESS BEEF FRANKS
Salt and pepper, to taste
4 strips thick-cut bacon, chopped
2 large russet potatoes, peeled
8 to 12 large eggs
1 tablespoon chopped fresh chives
1 1/2 cups shredded cheddar cheese
Hot sauce, for serving
Hot dog buns
Preparation
STEP 1
Cook bacon in large nonstick skillet over medium heat, stirring occasionally, until crispy. Remove bacon from pan with slotted spoon and drain on clean kitchen towel. Pour all but 2 tablespoons bacon fat from skillet.
STEP 2
While bacon is cooking, shred potatoes on large holes of box grater into large bowl. Fill bowl with cold water, stir until water is cloudy, then drain. Repeat process with fresh cold water. Drain and pat potatoes dry with clean kitchen towels. Add potatoes to skillet with bacon fat and season with pepper. Cook potatoes, undisturbed, until brown crust forms on bottom, about 5 minutes. Stir and continue to cook until potatoes are golden brown and crispy, about 5 more minutes.
STEP 3
Cook your hot dogs your favorite way. We suggest pan-fried with butter! See how to cook the perfect hot dog.
STEP 4
Cook your eggs your favorite way, seasoned with salt and pepper to taste. We recommend 1 fried egg per hot dog, or 2 eggs scrambled per hot dog.
STEP 5
To serve, layer potatoes and cheddar cheese onto bun and top with hot dog. Top hot dogs with eggs, bacon, hot sauce, and chives.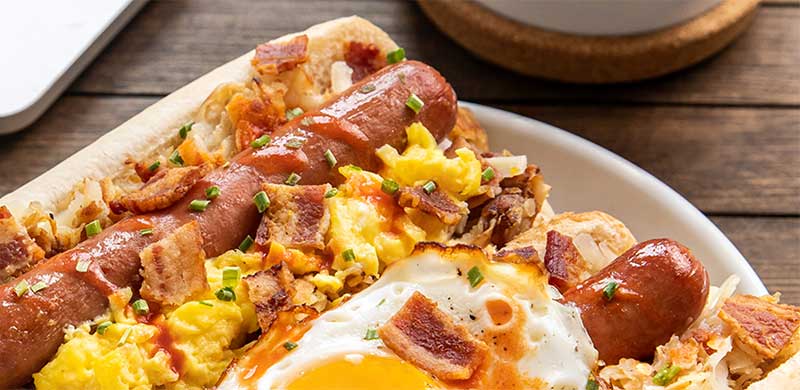 Become a Friend of The FEST
Just add your email and hit subscribe to stay informed.