FEST Raffle 2020
For the last twenty years, when I've written this letter, I've always asked for your help to keep The FEST – a great day of faith, family and fun – FREE and open to all.
This year, I am begging your support for The FEST raffle simply and sincerely to keep The FEST alive for another year. More than ever before, we need this day of faith and hope. We've got a great plan for FEST 2020 that will be a celebration of hope, and faith, and family. It will also keep The FEST alive and going so that we can come together in 2021.
I really need your help for The FEST raffle. Understandably, the prizes are a bit different this year. What hasn't changed is your goodness and support. Over the past twenty years, we've always found a way. With God's help and your goodness, we will keep The FEST alive and strong and a source of hope for all.
God bless you.
Father Bob Stec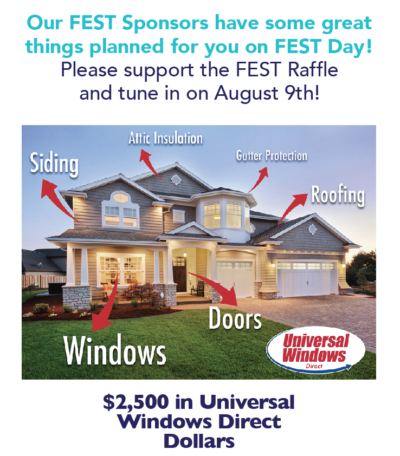 "Thank you for proceeding with this adapted plan for The FEST. While there is sadness for many that the experience will be a "distant" one, the new plan will allow many more people, who cannot ordinarily be present on that day in August because of the distance, the crowds, and the heat, to benefit from The FEST's typical creativity and blessings."
– SR. MARY
By purchasing a FEST raffle ticket, you are allowing us to create a day of faith, family and fun… a day that inspires thousands of people across our region.
Thank you for your continued commitment to The FEST!
Raffle Rules
• Must be at least 18 years of age to purchase tickets.
• Must be a legal resident of the United States to be eligible.
• Some prizes may require payment of taxes.
This will be the sole responsibility of the winner.
• Tickets are not tax deductible.
• We will only use your personal information and/or email address in conjunction with information related to The FEST promotions.
• Winner need not be present to win.
• Maximum of 2,500 tickets sold. Minimum of 1,200 tickets must be sold. If the drawing is not held, all monies will be returned to the purchaser.
• Proper identification is required to claim any prize.
(i.e.valid Driver's License, etc.)
• All prizes must be claimed within 30 days of notification.
• All ticket stubs must be returned to us no later than 7pm on August 9, 2020 to guarantee a place in the drawings.
• Neither the FEST nor any other person, organization or business sponsoring or participating in the FEST, assumes any liability for any claims, injury or other damages arising out of possession of any winnings or vehicles obtained through this ticket, and by purchasing a ticket, the ticket holder acknowledges a limitation on liability.
• All proceeds benefit the FEST/Center for Pastoral Leadership at 28700 Euclid Avenue, Wickliffe, Ohio 44092
• $100 suggested donation
• You will receive a completed ticket in the mail within a week of purchase.
• Credit card orders can also be made on our website at www.theFEST.us until August 9, 2020 at 7pm