FEST Christmas Concert!
Friday, December 17 @ 7:00 pm
The FEST is looking forward to welcoming Sanctus Real and Love & The Outcome for a Christmas Concert!
TICKETS: $10  Must be purchased in advance here.
Held at Saint Ambrose Church in Brunswick
Sanctus Real

Formed in 1996, the Ohio-based trio has seen major success over their 25-year career span, earning two GRAMMY® Award nominations, a GMA Dove Award® and six GMA Dove nominations. With a total of nine studio albums, most recently 2019's Unstoppable God, which was the follow-up to 2018's Changed, Sanctus Real has accumulated eight No. 1's and eight top five singles on multiple Christian radio formats.
To date, the band has sold more than 1.2 million albums and their music has been streamed 210+ million times globally. With a cumulative radio audience totalling 3.7 billion, they also have more than 25 million lifetime YouTube streams and thousands of days clocked on the road traveling all over the world, touring with other established artists such as MercyMe, Jeremy Camp, needtobreathe, Skillet, and more.
Love & The Outcome

Singer/songwriter Jodi King and her husband, bassist Chris Rademaker, toured all over the U.S. and Canada, sharing the stage with artists such as Newsboys, Switchfoot, Lecrae, TobyMac, Jeremy Camp and Francesca Battistelli. But to get there, Jodi and Chris had to walk through a spiritual desert. For years leading up to their first album, they maintained a grueling touring schedule, sold their house and possessions, said goodbye to Chris' mother after a battle with cancer, and hit pause on their promising careers. Yet after many painful stops in their journey, they felt the pull to keep going. They relocated to Nashville from Canada, bought a house, had their first child, and got back on the road.
As they navigate life as new parents with a growing music career, they're learning to live in the moment, trust God and rest in His peace, no matter where the road leads. They sing on title track: "Don't want to miss, miss / The moment slip away / It's a gift, a gift / Every breath we take …. Yesterday is gone / Tomorrow may not come / We're only given one chance to live."
The FEST 2022
SAVE THE DATE!  Sunday, August 7
There are many ways to 'measure' The FEST…
This year, the best stat was 1.75 inches…that's how much rain fell from the sky in under an hour at Brookside Reservation.
As the deluge of water began to fall, literally a voice – the voice of God – said, "TAKE COURAGE!!"  As I stood under the command tent, it was one of the officers who whispered in a strong and loud voice – TAKE COURAGE!!!  
It was such a God moment, and a powerful reminder that no matter what comes our way, when we Take Courage and know that the Lord is with us, we walk into a bright and hopeful future – and it was – a glorious day when thousands came to celebrate our faith, find hope and inspiration, strengthen the bonds of faith and family – at The FEST.
God bless.
Father Bob Stec
Watch a brief glimpse into FEST day!
Please send us some of your favorite FEST pictures and memories/moments at FEST@TheFEST.us.   Remember to TAKE COURAGE for the Lord is with us and – together – we will walk into a bright and hopeful future.
A Day of Faith, Family & Fun!
The FEST 2022
Thanks to all who joined us in person and the 24,000 who connected from the safety of their homes.
Special thanks to the 900 volunteers who made this GREAT day possible.  They weathered the storm (literally!) and made this amazing day possible.
Many thanks to all of our partners and sponsors who believe in our community – who love The FEST.  Their support makes it possible to bring the best of the Christian artists to the main stage of The FEST.   A huge shout out to our friends at Marc's!!  So many had a tasty lunch, along with some amazing prizes and gift cards.
Watch a FEST Day TAKE COURAGE video!


TAKE COURAGE is the theme for FEST 2021!
At once, Jesus spoke to them,
"Take courage, it is I; do not be afraid."
– Matthew 14:27
TAKE

LEAD WITH

STAND WITH

PRAY FOR

TRUST IN
COURAGE
After a year of being tossed about in the storm, our future is bright and hopeful because the Lord is with us. He said to those earlier followers (and each of us), "Take Courage, it is I." We can walk forward into a bright and hopeful future not because the storm or the pandemic has passed, our courage and our hope come from the Lord.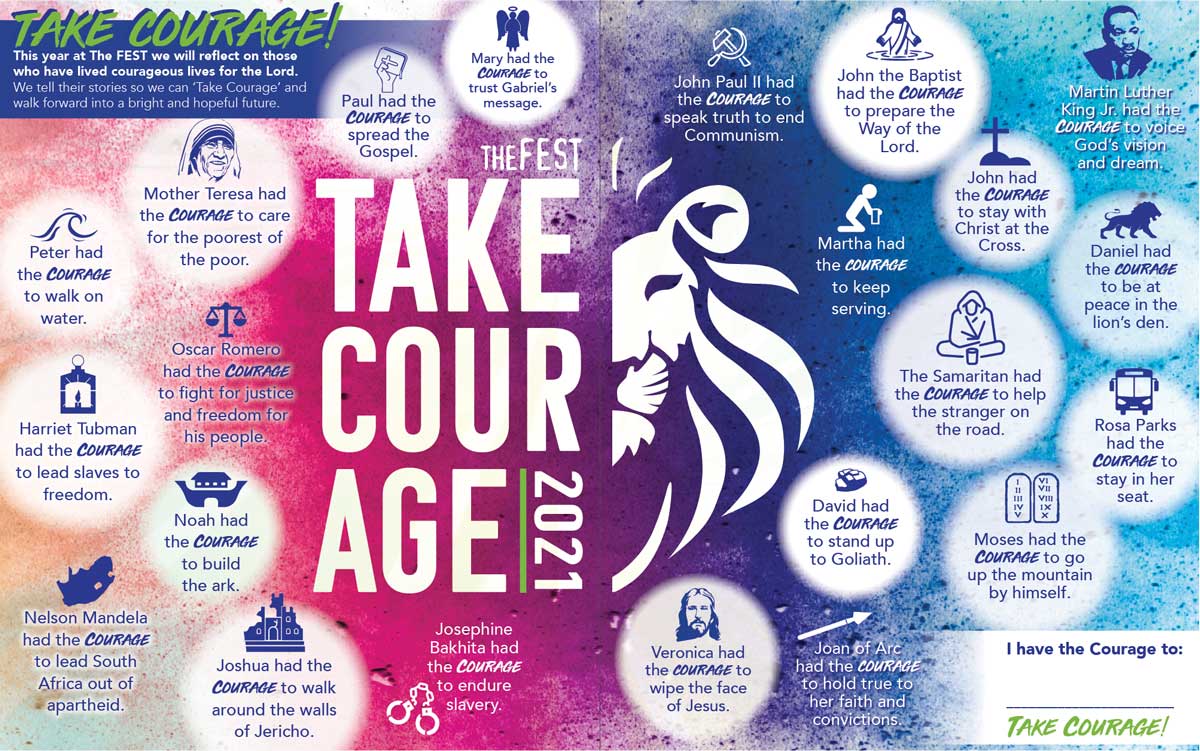 The FEST Grounds
Explore all the areas of The FEST!
FEST Sponsors
More than ever, we are grateful for our sponsors and partners who continue to support The FEST! This year, we are looking forward to collaborating with them to create a unique and engaging event in the same spirit and fashion that we've done for the past 20 years!
These sponsors have stepped forward this year to make this possible – please support them!
Become a Friend of The FEST
Just add your email and hit subscribe to stay informed.