The FEST 2022
SAVE THE DATE!  Sunday, August 7
There are many ways to 'measure' The FEST…
This year, the best stat was 1.75 inches…that's how much rain fell from the sky in under an hour at Brookside Reservation.
As the deluge of water began to fall, literally a voice – the voice of God – said, "TAKE COURAGE!!"  As I stood under the command tent, it was one of the officers who whispered in a strong and loud voice – TAKE COURAGE!!!  
It was such a God moment, and a powerful reminder that no matter what comes our way, when we Take Courage and know that the Lord is with us, we walk into a bright and hopeful future – and it was – a glorious day when thousands came to celebrate our faith, find hope and inspiration, strengthen the bonds of faith and family – at The FEST.
God bless.
Father Bob Stec
Watch a brief glimpse into FEST day!
Please send us some of your favorite FEST pictures and memories/moments at FEST@TheFEST.us.   Remember to TAKE COURAGE for the Lord is with us and – together – we will walk into a bright and hopeful future.
A Day of Faith, Family & Fun!
The FEST 2022
Thanks to all who joined us in person and the 24,000 who connected from the safety of their homes.
Special thanks to the 900 volunteers who made this GREAT day possible.  They weathered the storm (literally!) and made this amazing day possible.
Many thanks to all of our partners and sponsors who believe in our community – who love The FEST.  Their support makes it possible to bring the best of the Christian artists to the main stage of The FEST.   A huge shout out to our friends at Marc's!!  So many had a tasty lunch, along with some amazing prizes and gift cards.
Watch a FEST Day TAKE COURAGE video!


TAKE COURAGE is the theme for FEST 2021!
At once, Jesus spoke to them,
"Take courage, it is I; do not be afraid."
– Matthew 14:27
TAKE

LEAD WITH

STAND WITH

PRAY FOR

TRUST IN
COURAGE
After a year of being tossed about in the storm, our future is bright and hopeful because the Lord is with us. He said to those earlier followers (and each of us), "Take Courage, it is I." We can walk forward into a bright and hopeful future not because the storm or the pandemic has passed, our courage and our hope come from the Lord.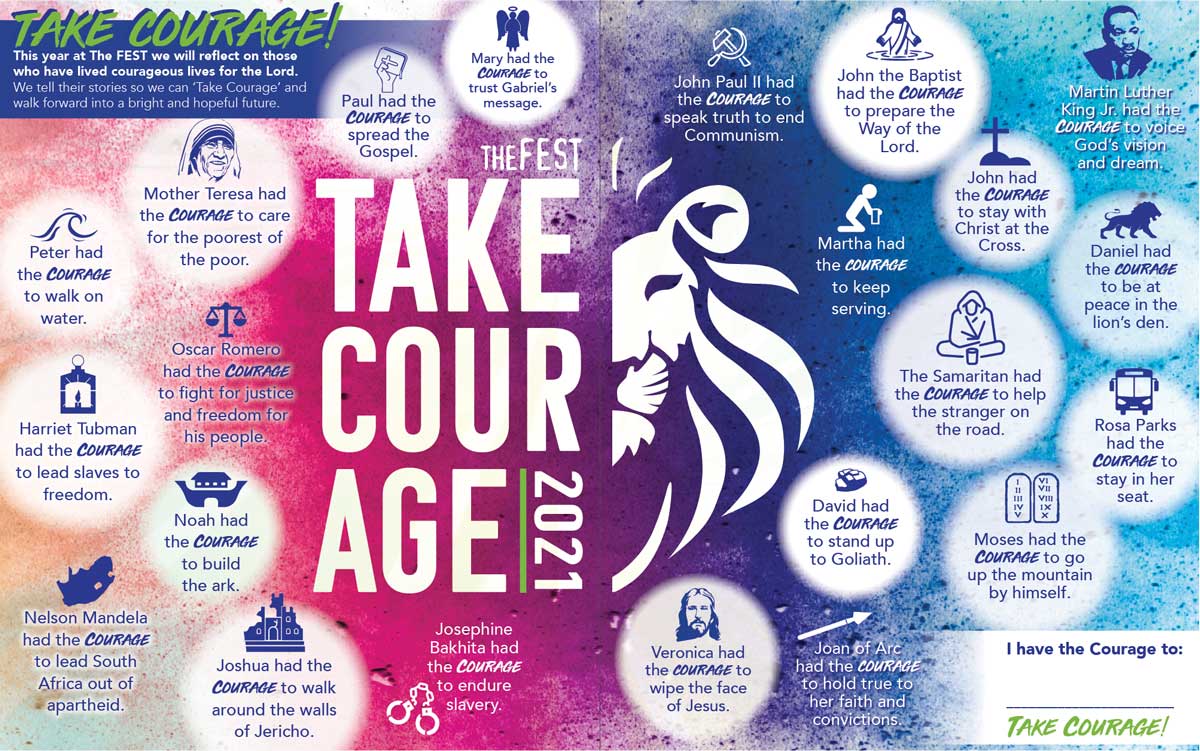 The FEST Grounds
Explore all the areas of The FEST!
FEST Sponsors
More than ever, we are grateful for our sponsors and partners who continue to support The FEST! This year, we are looking forward to collaborating with them to create a unique and engaging event in the same spirit and fashion that we've done for the past 20 years!
These sponsors have stepped forward this year to make this possible – please support them!
Become a Friend of The FEST
Just add your email and hit subscribe to stay informed.