Food at The FEST!
FOOD TICKETS: When you get to The FEST, please visit one of our four ticket booths to purchase food tickets before visiting the food vendors.
All proceeds from the Food and Beverage sales come right back to The FEST to keep it FREE!
FEST 2019 Food Menu & Pricing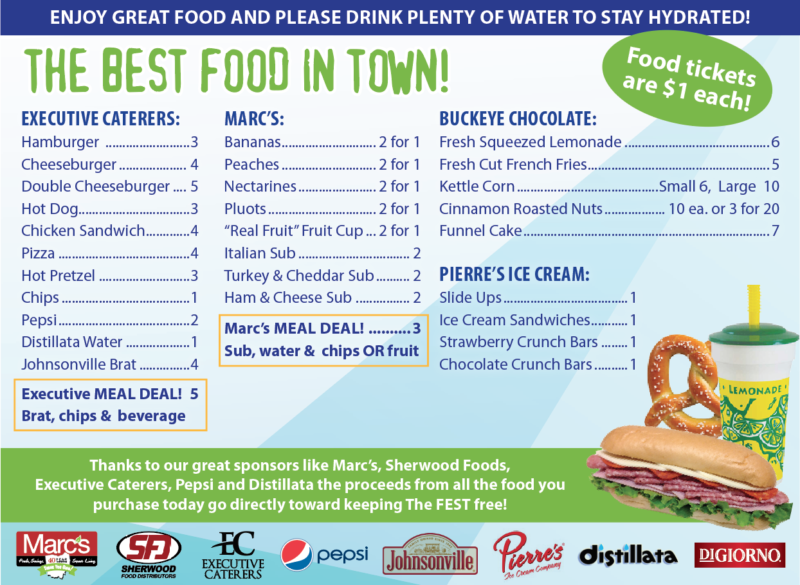 Marc's Fresh Food FAST!
Delicious deli sandwiches and fresh healthy salads will be available the day of the FEST made fresh by Marc's! Choose between the Italian Sub or Turkey & Cheddar Sub!


MARC'S Fresh Fruit Market
Enjoy a healthy and affordable snack at Marc's Fresh Food Market, filled with your favorite, juicy fruit. Bananas, peaches, nectarines, pluots and watermelon will all be available!




Executive Catering Tents
Grilling fresh hamburgers, cheeseburgers, double cheeseburgers, Italian sausage sandwiches, hotdogs, and chicken sandwiches! PLUS soft hot pretzels with cheese sauce and potato chips! Pepsi products and Distillata Water are available. And be sure to save room for Fried Dough!!!




Johnsonville Big Taste Grill
Nothing says summer quite like a delicious Johnsonville Brat. Bursting with juicy flavor, these succulent sausages and brats are staples of backyard barbecues all over the country…including at The FEST!  Be sure to stop by for a delicious Johnsonville Brat at The FEST!
Favorite Festival Foods at the Buckeye Chocolate Tent!
Enjoy all of your favorite festival foods! Fresh Squeezed Lemonade, Fresh Cinnamon Roasted Almonds, Cashews and Pecans, Fresh Cut French Fries and Kettle Corn!




Grab some Pierre's Ice Cream for dessert!