The FEST: Sunday, August 7, 2022
What is The FEST?! Our annual one-day event brings people together from all regions to enjoy an inspiring day of faith, family & fun! We have nationally known bands playing live – but it's more than just a concert! The FEST is an experience. Joyful FEST volunteers guide you to our activities, crafts, inflatables, sponsor tents, and entertainment all over the FEST grounds. And of course great food and drinks to enjoy while walking the beautiful grounds of the Center for Pastoral Leadership (CPL) in Wickliffe!
Address for The FEST:
The Center for Pastoral Leadership
28700 Euclid Ave, Wickliffe, OH 44092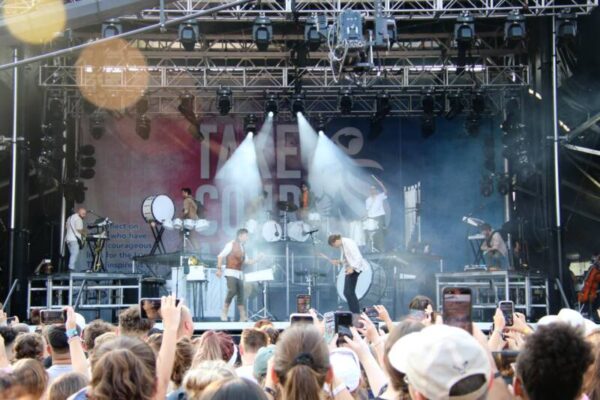 History of The FEST
22 Years of Faith, Family, and Fun
Since its inception, the goal of The FEST has been to inspire and energize teens, young adults and families in the Northeast Ohio region – not just for one day, but for the entire year.
Father Bob Stec — who at the time was vocations director for the Catholic Diocese of Cleveland — launched the event in the year 2000 to welcome the diocesan contingent home from their trip to Rome for World Youth Day. It was called "Home from Rome." The event attracted about 3,000 people.
Father Bob didn't want to lose the momentum, and continued the event, which was later renamed "The FEST" and grew into the huge celebration it is today.
Over the years, The FEST has become a summer staple for many families in the region and attracts over 40,000 over the course of the day for a day full of music, community, and faith. We are grateful for the support from our generous sponsors, donors, and volunteers!
Each year, The FEST Team chooses a theme to inspire the messages and activities throughout the day and the year. Take a look at all the past FEST themes!
"Please tell your FEST team that my husband and I truly appreciate the tremendous effort that was put into making this celebration of faith in the middle of the pandemic. During a stressful and uncertain time, you gave us the gift of uplifting messages and songs of faith, and you reached more people than ever before. God Bless all of you, and thanks again."
"Thank you! My husband and I wanted to thank you for all you do! Your generosity is beyond measure. God Bless you."
"It is hard for me to describe the feelings that I get from The FEST… uplifting, faithful, personal, thankful, together, the words just are not big enough. You get feelings like no other. Renew, rejoice, RETURN for another FEST next year!"
FEST Themes & Bands
2001: Jesus is the Best, He's the Reason for the FEST
Bands: Scarecrow & Tinmen, Whisperloud, Who Do You Say I Am, Voce & Prelude
2002: I Want to be Holy, Just like You
Bands: Zoe Girl, Switchfoot, Prelude
2003: Saints… Yesterday…Today…Forever
Bands: Sean Groves, Big Daddy Weave
2004: Expect a Miracle
Bands: Seven Places, Kutless, Matt Smith, Joshua
2005: Believe
Bands: Everlasting Hope, Skillet, Salvador
2006: Signs of Hope
Bands: Steven Curtis Chapman, Krystal Meyers, Sanctus Real
2007: One
Bands: Michael W. Smith, Leeland, Praise Apella
2008: Forever
Bands: Jeremy Camp, Matt Maher, Stellar Kart, Neverthless
2009: Love Life
Bands: Jars of Clay, Brandon Heath, Matthew West, Nicole Mullen
2010: Lead me Home
Bands: Newsboys, the Afters, Matt Maher, Brooke Barretsmith
2011: Hearts on Fire
Bands: Mercy Me, Remedy Drive, Blessed Union of Souls, Jackie Francois, Praise Apella
2012: Joy to the World
Bands: Switchfoot, Peter Furler, Mandisa
2013: Strength in Numbers
Bands: Casting Crowns, for King & Country, Jamie Grace, Matt Maher, The 300, The Strange Familiar
2014: Chosen
Bands: Third Day, Colton Dixon, Mandisa, for King & Country
2015: Together
Bands: MercyMe, Steven Curtis Chapman, Building 429, Matt Maher
2016: Everything
Bands: Newsboys, Michael W Smith, Matthew West, Lauren Daigle
2017: A Full Life
Bands: for King & Country, Crowder, Matt Maher, Laura Story
2018: Be The Light
Bands: We Are Messengers, Mandisa, Big Daddy Weave, TobyMac
2019: Generations of Faith and Family
Bands: Jordan Feliz, Tenth Avenue North, Matt Maher, Casting Crowns
2020: Glorious / The FEST @Home
Bands: Casting Crowns, for King & Country, Matthew West, Danny Gokey, Matt Maher, Building 429, Colton Dixon, Jordan Feliz, We Are Messengers

2021: Take Courage
Bands: We Are Messengers, Tauren Wells, Danny Gokey, for King & Country
Become a Friend of The FEST
Just add your email and hit subscribe to stay informed.