FEST 2021 Volunteers!
ONLINE SIGNUP IS CLOSED.
But, thank you for your interest! Stop by the volunteer check-in on August 8 to see if any areas need some help!
We can't wait to gather on August 8!  There are opportunities for everyone before, during, or after FEST day for volunteers.  Sign up with friends and family, it's a fun thing to do together! We welcome anyone over the age of 10 to sign up to volunteer.  Please note – those between the ages of 10-13 need to volunteer with a parent or guardian.  Teens –  think of 3 people you'd love to hang out with at The FEST.  Invite them to sign up with you!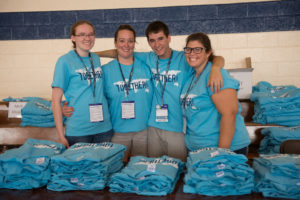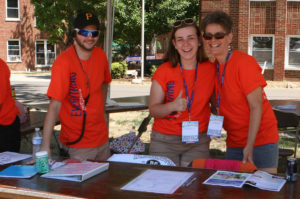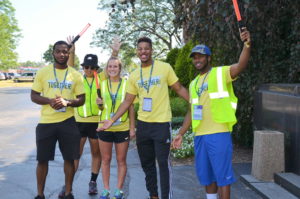 *NOTE: Each volunteer must register individually. Please do not sign others up through the comment section. THANK YOU!
Volunteers Get FREE Stuff!
Not only are you doing something amazing for others…volunteers get a FREE Admission Ticket, FEST 2021 Take Courage T-Shirt and FEST Lanyard!   ADMISSION TICKET INFO: After you sign up to volunteer we will review and provide you with a code for a FEST Admission ticket after your sign up is cleared.
Volunteer Area Descriptions
Please scroll down below the form to see all of the areas you can volunteer at! Plan where you and your friends and family want to work together and invite them to sign up.
Volunteer Registration Closed
We're sorry, registration for volunteering at The FEST 2021 is now closed. We hope that you can join us next year for The FEST 2022 on Sunday, August 7, 2022.
General Volunteer Opportunities (Day of The FEST)
Band/FEST Merch: Assist the bands in selling CD's, t-shirts, and other products. Assist The FEST in selling FEST merchandise. (Adults only.)
Floater: Flexible people who are willing to fill in where there is a need. May wait in volunteer area for a short time until needs are known.
Food: Assist at a variety of areas, including the Brat truck or Executive Caterers. Help sell a selection of food items. These volunteers are appreciated and vital to the FEST, especially around dinner time!
Food Ticket Sales: Sell food tickets. Must be able to work with money and make change. (Adults only.)
Fresh Food: Assist at Marc's Fresh Food Market, which sells fruit and a variety of snacks.
Greeter: Joyously greet those who are entering The FEST grounds and pass out literature.
Grounds: Help clean up during The FEST. These volunteers are vital to helping the FEST run smoothly all day!
Information: Friendly helpers who assist visitors of The FEST and help them find what they are looking for.
Kids' Activities & Small Fry Area: Assist with children's crafts, games, and activities. Small Fry volunteers assist with toddler's activities (ages 3 and under). Children remain with parents.

Moms' Relaxation Station: Help out with one of our biggest attractions!

Parking: Direct cars entering The FEST grounds and nearby lots, guide guests to bus shuttle stops, and assist with departure. We appreciate our parking volunteers for helping the day to run smoothly!
Raffle Ticket Sales: Sell FEST raffle tickets during The FEST. (Adults only.)
Teen Activities: Get in on the action! These volunteers may help to oversee inflatables, games, and other activities.
Volunteer Check-in: Friendly helpers who check volunteers in, provide t-shirts, and help volunteers find their specific job area.
Mass & Liturgical Volunteer Opportunities (Day of The FEST)
Choir: Unfortunately, given all limitations this year, we are unable to have our full-force choir as we have had in past years. We invite you to join in singing from the crowd!
Cantors & Lectors: If singing or public speaking is your gift, audition to become a cantor or lector for the FEST Mass!
Eucharist Ministers: If you are a diocesan certified Extraordinary Minister of Holy Communion, we could use your help during the FEST Mass. Spaces are limited to the first 100 ministers who check in on the day of the FEST.
Usher: The ushers circulate "love buckets" to collect a free will offering before the FEST Mass, and assist with the flow at Communion distribution time. Ushers meet before Mass at 7:00pm (Location TBD).
Pre-FEST Volunteer Opportunities
Parish Talks: Are you enthusiastic about The FEST and enjoy public speaking? We are always looking for responsible volunteers to help spread the word about The FEST in parishes across the diocese throughout June and July! If you're interested and willing to attend a short training, call our office at 440.943.7662.
Pre-FEST Office: We always need office helpers for stuffing envelopes, making copies, laminating, etc. Office opportunities are available from May – August. During the week prior to the FEST, all volunteers are offered free lunch, dinner and daily Mass.
Pre-FEST and Post-FEST Grounds: Assist with set-up of the stage, booths, signs, etc. during the week prior to The FEST, and tear-down on Monday and Tuesday after The FEST. All volunteers are offered free lunch, dinner and daily Mass.
Become a Friend of The FEST
Just add your email and hit subscribe to stay informed.