Emily Wilson
A speaker, YouTuber, author, and musician who travels the world sharing her faith through witness and worship at women's conferences, universities, and diocesan events across the globe.
After working for two years as a full-time high school campus minister, Emily made the transition to full-time traveling ministry beginning in 2013. She has spoken and played music at dozens of national and international youth, young adult, and women's events in two dozen states and numerous countries, including diocesan, parish, and school events, as well as FOCUS, Life Teen, and Steubenville conferences, the National Catholic Youth Conference, and the Australian and Swiss Catholic Youth Festivals.
Check out Emily's book "God's Glorious Girl"!
Visit the website for more information and pricing.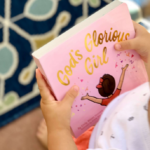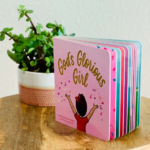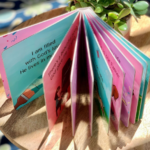 "Comparison in Motherhood" with Emily Wilson
"Being Refined Through Motherhood" with Jodi Durr
Jodi Durr
Jodi, the author and creator of the website www.meaningfulmama.com, talks about how parenting is as much about refining us as it is about refining our kids. She speaks from the heart, sharing both personal experiences as well as providing practical parenting advice.
Meaningful Mama is a faith-based resource for moms and dads and covers a variety of topics including parenting, marriage, crafts, activities, recipes, holidays, and celebrations. It also provides a character building series, which contains lessons for 52 different character traits, one for each week of the year.
LEARN MORE:   meaningfulmama.com
Conversations with Sara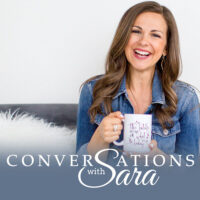 Join 95.5 The Fish radio and TV host, Sara Carnes as she chats with her most inspiring friends, artists, and experts about how we can make tomorrow a better place.
During each episode, they'll talk about all kinds of things that will help us live our best life. We could all use a message to inspire us, right?
She'll be chatting with national recording artists, comedians, influencers, leading dietitians, functional medicine doctors, wellness experts, and others to talk about how to live healthier, happier, and active lives.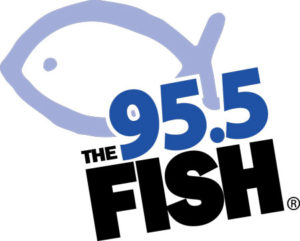 You'll even get some fun beauty tips, fashion advice, favorite recipes, and more… it's gonna be fun!! She's on a journey to make tomorrow better… and she wants to do it with you. So follow along, and subscribe!
Learn more at conversationswithsara.com
SPONSORED BY 95.5 THE FISH! 
Big Life Questions & Friendship with Sarah Swafford
This talk is for teens, adults, women and men!
Two questions that we as humans ask ourselves are 1. Am I enough? and 2. Am I ever going to be truly loved?
What makes up the best friendships? Availability. Vulnerability. Accountability.
If you want something to grow in your life – FEED IT!  If you want something to die in your life – STARVE IT.
These are just a few topics you'll hear today. Take some time to listen to be inspired by what Sarah has to share.
About Sarah Swafford
The founder of Emotional Virtue Ministries. She speaks internationally to people of all ages on a variety of topics such as: Emotional Virtue, Dating and Relationships, Modesty of Intentions, and Interior Confidence. She is a graduate of Benedictine College and has been involved in ministry for over ten years. For three years, Sarah worked as a Residence Hall Director at Benedictine College, taking care of 142 freshmen women. That amazing experience gave her a front row seat into the hearts of women and men transitioning from high school to college, giving her a deeper look into the struggles facing teens and young adults today.  LEARN MORE  www.emotionalvirtue.com
Riley Sewell's Story on Surviving a Tsunami
About Riley Sewell
Riley Sewell is an adventurer, writer and full-time student with a heart for impacting the lives of those that need it most.  Riley was born in England, raised in New Zealand and is embracing America as her spiritual home.  Riley has a degree in Commercial Law and Management from Auckland University (NZ) and is presently completing her Master's in Global Leadership at Fuller Theological Seminary (Pasadena, California). The average age of the Global Leader enrolled in this program is fifty, thereby empowering Riley as the youngest student ever accepted.
Riley has spoken at 40 plus events in the last ten months, ranging from Women's Conferences, Business Meetings, Youth Groups, High Schools, University Chapels and Churches.
Don't forget to watch Riley's other video here on the topic of being single & whole!
LEARN MORE: www.rileysewell.com  |  INSTAGRAM: @rileysewell
Why Choose Unity Catholic Federal Credit Union?
At Unity we work with you to make your dreams a reality, today. Offering you better rates, personalized services, giving you greater control of your money.
We are Federally Insured, so your money is safe. And, we're part of the Co-Op Shared Branch Network that gives you 6,000 branches nationwide making credit unions the second largest branch network in the nation.
Our members have trusted us since 1942 to help them turn their financial goals into fantastic realities. LEARN MORE!
Mick Naples
Mick holds a master's degree in education from Youngstown State University and is finishing a master's in biblical counseling from the Master's University. He is a counselor with the Association of Certified Biblical Counselors and an instructor with the Biblical Counseling Institute of Ohio. He is the author of Journey Well: A Biblical Guide to Life's Most Practical Lessons.
Check out his latest book "Journey Well" by clicking the link www.journeywellbook.com
Journey Well Book Drawing
Journey Well | A Biblical Guide to Life's Most Practical Lessons from Mick Naples
The Parable of the Pharisee and Tax Collector | Reflection from Mick Naples
Dave and Jane Rossiter Talk Marriage!
Dave and Jane Rossiter
We have been married for over 30 years and work for FamilyLife. This nonprofit organization changes the way relationships, marriages and families interact with the world by providing biblical help and hope. We joined FamilyLife as volunteers on the Cleveland/Akron Weekend to Remember team in 1996. We took the role of Weekend to Remember Directors (WTRDs) in 2009 after David retired from ALCOA after 29 years with them . We led the Cleveland/Akron team for two years but were feeling God calling us to more. We attended a training in 2010 at FamilyLife headquarters in Little Rock for WTRDs and were told of FamilyLife's new regional model that was unfolding. We could now be on staff at Family Life but elected to stay in Ohio as our friends, children, family were in Ohio.
The Power of Unity with Pastor Larry
The Power of Unity with Pastor Larry Macon, Jr.
A pastor, leader, author, motivational speaker, and recording artist. He currently serves as the Co-pastor of Mt. Zion Church of Oakwood Village, a ministry that now serves a membership of more than 6,000 people and is one of the largest churches in the Greater Cleveland area. Pastor Macon has devoted his life to helping others through teaching at conferences, writing books, and coaching individuals that seek his counsel.
His philanthropic efforts lie in his role as organizer of the Haitian relief efforts for the Mt. Zion Ministry, and Safe Surrender, a program in conjunction with the U.S. Marshals to bring in more than 7,000 people with outstanding warrants. He oversees relief efforts for those in need of food and encouragement through the City Mission and the Nursing Home ministries.  LEARN MORE: www.larrymaconjr.com
Renew the 'I do' Foundation – "Love Never Fails"
Renew the 'I do' is an emerging Foundation that is inspiring marriages to THRIVE in today's culture, guided by research, science and the Holy Spirit.
Why create a foundation to build a THRIVING marriage culture?
We realize the challenges we face.  Our media and culture promotes and normalizes immorality and broken families that result in loneliness and hurt, which often lead to many other problems. Research shows the best way to strengthen communities is by strengthening marriages.  This makes sense – families are the heart of our community and strong marriages lead to overall health and happiness for the whole family.  Renew the 'I do' Foundation was founded on this premise.
LEARN MORE:  www.renewtheido.org
Become a Friend of The FEST
Just add your email and hit subscribe to stay informed.