Share your gifts within The FEST Mass this year!
Join us as a lector, cantor, choir member, usher, or Eucharistic minister!
Lectors

Are you a strong public speaker? Are you a lector at your own parish? Do you want to proclaim the word of God in front of thousands at The FEST? Then we need you! Our liturgy team is accepting digital auditions for lectors at The FEST Mass. This opportunity is not limited to those who already serve as lectors at their parish, but involvement as a lector is a huge plus!
If interested, please submit a video of yourself proclaiming the sample text below to Mike at Mike@TheFEST.us by Thursday, June 20th.
Sample Reading:
Christ, be the light in the world. Embolden the hearts of all world and civic leaders in facing the challenges of this world. Inspire them to stand for the peace, justice, and dignity of all people, cultures and every human life. We pray…
Christ, be the light in our hearts. May the needs we hold in the silence of our hearts, (pause) for the unemployed and underemployed, for those seeking clarity in their vocation, and for the one person here tonight who needs our prayers the most. We pray…
Cantors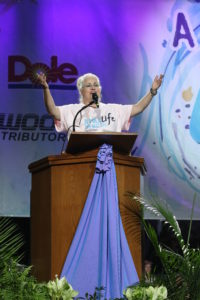 One of the most exciting events of the FEST is the celebration of Mass. Praying, singing, and celebrating the Eucharist together with so many people is humbling beyond words, and an indescribable moment of joy.
Audition to be a cantor, and lead songs at Mass with our very own Bishop Nelson Perez presiding. Contact Matthew Fodor to schedule your audition (MFodor@StAmbrose.us or 330-460-7337).
Choir 
Join the choir that sings together on stage praising God during the FEST Mass! Plan on attending several rehearsals prior to The FEST. Sign up today at www.TheFEST.us/volunteer!
Bring your family members, mom, dad, grandma, grandpa, aunts, uncles to sing with you, symbolizing that faith and family keeps the love of Christ present through every generation! We can't wait to sing with you!
Choir Rehearsals
Wednesday, July 24 | 7:00 pm at Saint Ambrose, 929 Pearl Road, Brunswick
Tuesday, July 30 | 7:00 pm at CPL, 28700 Euclid Ave, Wickliffe
Full Choir Rehearsals
Thursday, August 1 | 7:00 pm at CPL, 28700 Euclid Ave, Wickliffe
Saturday, August 3rd | 6:00-7:45pm at CPL, 28700 Euclid Ave, Wickliffe
For questions, contact Matthew Fodor (MFodor@StAmbrose.us or 330-460-7337).
Ushers
We need ushers to help us distribute "love buckets," or free will donation buckets, before Mass. Ushers also help to guide people during Holy Communion distribution at Mass. Sign up at www.TheFEST.us/volunteer!
Eucharistic Ministers
If you are a Diocesan-certified Extraordinary Minister of Holy Communion and would like to serve at The FEST Mass, we can use your help! Sign up at www.TheFEST.us/volunteer!
Please note: We can only accept the first 100 EMs who sign in at volunteer check-in on the day of The FEST, so be sure to check in as soon as you are able.