Activities Area – Visit all of the Tents!
Dancers
Get down with Djapo Cultural Arts Institute!
The main focus of Djapo Cultural Arts Institute is to bring together individuals from various backgrounds and cultures through dance and music. Djapo is an African word meaning "come together." To learn more about the African culture, tune-in to watch the Djapo Cultural Arts team dance!
Jump Ropers
Jump, jump, jump!
Do you have what it takes to master the art of jump roping? Join Jammin' Jumpers Jump Rope Team to find out and challenge yourself and your friends and family!
Acrobats
Join Jasmine Dragons Acrobatics for a fun, fit time!
Warning: do not try this at home.
Jasmine Dragons Acrobatics is the place to be! Watch their performance team gracefully hang from metal hoops suspended from the ceiling and other aerial tricks. You will not want to miss this!
Artist at Heart
Step by Step Painting on Sunday, August 9 @ 5:00pm on Facebook Live!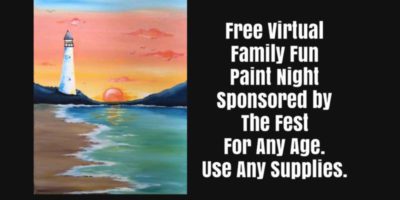 Artist at Heart is locally owned and operated by Denyse Lipka Carbonell. Denyse received her Bachelor of Fine Arts Degree from The Cleveland Institute of Art and her Master's in Art Education from Case Western Reserve University. She has willingly shared her time and talent with us at The FEST.
Denyse will teach you step by step how to paint using supplies you have at home on Facebook live at 5pm!
Music from Pastor Larry Macon, Jr.
Mr. Larry Macon, Jr. is a pastor, leader, author, motivational speaker, and recording artist. He currently serves as the Co-pastor of Mt. Zion Church of Oakwood Village, a ministry that now serves a membership of more than 6,000 people and is one of the largest churches in the Greater Cleveland area. Mr. Macon has devoted his life to helping others through teaching at conferences, writing books, and coaching individuals that seek his counsel.
Profound Revival
Recording artist, Profound Revival, is a folk/pop husband and wife duo. Currently located in Pittsburgh, this music ministry has been blessed with the opportunity to share about the love of Jesus through the local church, youth conferences, and music festivals. Profound Revival's latest album IMAGES is their third album and speaks to the everyday situations we all face. Written from a place of love, IMAGES addresses topics near to Josh and Andrea's heart.
Polite
Polite is a group of young Christian musicians who came together for the purpose of sharing their amazing God given talents with the world while glorifying God with their beautiful, one of a kind, harmonious voices. This group of compelling musicians is comprised of siblings from Bedford Heights, Ohio who have been ministering through their gift of music for a little over five years. They have traveled and sang in many different venues such as singing the National Anthem for the Cleveland Gladiators, as well as opened up for well-known gospel artists such as Maurette Brown and Vashawn Mitchell. Whether they are singing gospel songs or contemporary songs, Polite captivates their audience with every high energy performance and is sometimes accompanied by the Community of Faith Choir.
Become a Friend of The FEST
Just add your email and hit subscribe to stay informed.