Congratulations to The FEST @Home Winners!
Thank you for your support of the FEST. All winners will be contacted directly by The FEST. If you have any questions please contact us via email: fest@c87.68c.myftpupload.com. 
If you entered on contest through one of our sponsors, they will reach out to you directly.
Our FEST Cash Quiz goes until August 25!
FEST 2020  Raffle Winners
$15,000 – Denis Randall

$7,500 – Mary Burke
$5,000 – Bob & Linda DeSteven
$2,500 – William Adams
$2,000 – James Piskura
$1,500 – Eugene Horschler
$1,500 – Margie Deliz
$1,000 – Chris Hudak
$1,000 – Rhonda Carson
$1,000 – John May
$1,000 – Lorie Townley
$500 – Shannon Doyle
$500 – Nancy Powell
$500 – Doug Stewart
$500 – Jamie Sanchez-Anderson
$500 – Keri Cupp
$250 – Patricia Cholewa
$250 – Susan Worstall
$250 – F Glenn Rybka
$250 – Rita Szymczak
Marc's Moms Relaxation Station
Tracy Sluka
Rakita Foster
Susan Soto
Susan Stefancik
Delores Ivan
Crystal Wells
Nancy Niemesch
Lisa Aiello
Theresa Kalka
Tracy Braho
Karen Battaglia
Teresa Morrison
Barbara Campbell
Suzanne Hoch-Anello
Mary Ellen Warren
Jennifer Fiediga
Mandy Whitehair
Lori Reichard
Laura McClain
Dakota Harris
Karen Brown
Susan Lickert

Man Cave Winners
Jim Cermak
Nathaniel Hoskins
Roy Chunat
Ben Sherman
Jim Begin
Tom Srsen
Man Cave Trivia Winner
Daniel Braford
Hopefully everyone leaves The FEST with something….
…mostly the love of Jesus in their hearts.
…the awareness that there are wonderful people…lots of them…who want to live and love in the way of Jesus.
…ideas to strengthen the bonds of faith – and family – and community.
…along with wonderful 'give away' items.
While this year is different in so many ways, we want you to have some FEST take-aways and giveaways.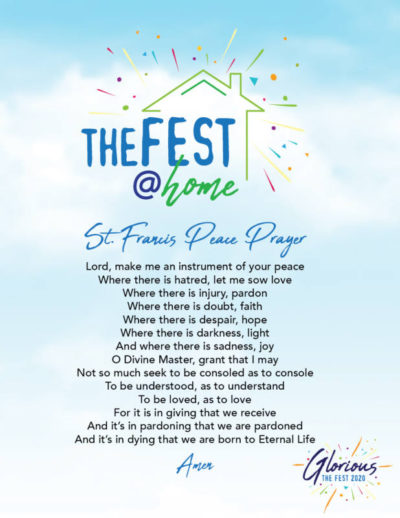 Become a Friend of The FEST
Just add your email and hit subscribe to stay informed.