We The Kingdom
Performing at The FEST 2022 on Sunday, August 7
New song coming May 27…Miracle Power!
Performing for the first time at The FEST – We The Kingdom is releasing their single, MIRACLE POWER on 5/27. The early previews sound GREAT.
From Instagram: wethekingdom
The story behind this song is years long. We've poured our hearts and souls into this and we could not be more excited to share it with y'all 👀!! Our first single Miracle Power is coming 5/27/22. 🌅🌌🎆
Listen on We The Kingdom Facebook or Instagram!
We The Kingdom is a Grammy nominated multigenerational family of musicians, producers and songwriters consisting of Ed Cash (Chris Tomlin, NEEDTOBREATHE, Crowder), Scott Cash, Franni Cash Cain, Martin Cash, and Andrew Bergthold. The band organically formed at a Young Life camp in Georgia where each of the five members – weary and heartbroken due to a number of difficult circumstances – came to lead worship.
An amalgamation of four different decades, We The Kingdom's music embraces pop, country, folk and rock – with a heart rooted in worship. Together, they write songs about the full spectrum of human emotion as they aim to capture brokenness, honesty and the redemptive power of God's love through their vulnerable, gritty lyrics.
Praised by American Songwriter, Billboard, Relevant, and CountryNOW, We The Kingdom's Grammy Nominated debut album, Holy Water, features two back-to-back No. 1 hits – the organic title track which was nominated for a Grammy in the category of Best Contemporary Christian Music Performance/Song. The group's first single, "Holy Water," reigned at the top of the Christian radio charts for eight weeks.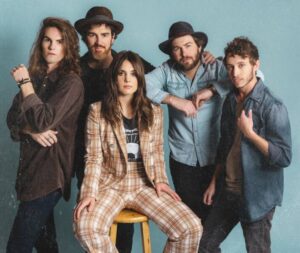 In the News
We The Kingdom Make Grand Ole Opry Debut
Two-time Grammy-nominated group We The Kingdom made their Grand Ole Opry debut on February 26, 2022. This milestone launched the band's 16-date headlining tour, which began March 3 in South Carolina. The tour includes stops in St. Louis Kansas City, Memphis, and more.
Named Contemporary Christian Artist of the Year at the 2021 Dove Awards, We The Kingdom has racked up more than 300k social media followers and was recently awarded an RIAA-certified GOLD Single for 'Holy Water,' the multi-generational group's first No.1 hit. The artist's website has more information here.
Become a Friend of The FEST
Just add your email and hit subscribe to stay informed.