Take HOPE Home
Christ is the LIGHT stronger than the darkness.
He is the LOVE that rolled away the stone.
His MERCY is greater than our sin, struggle and challenge.
Christ is the HOPE that does not disappoint.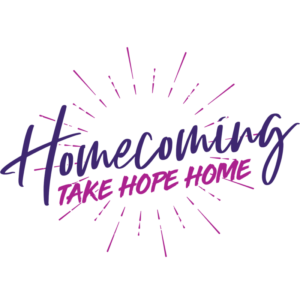 This year, more than ever, we need to take HOPE home. The Great Commandment calls us to "Love God and Love our Neighbor." Neighbors are more than just those we live next to, or those we 'get along with.'
We need to allow God to stretch our mind and heart to understand that we are called to love one another in the same way Christ loves, accepts and forgives each of us. This is the path to building a better community, country and world. This is the source of our HOPE. This is the way to Christ and the hope that we, together, can build a better world for all.
Take HOPE Home – and everywhere you go!!!
Think of ways that you can live out the GREAT Commandment in your life and in your part of the world.
Live out the HOPE of the Gospel
Follow positive and uplifting social media outlets (i.e. SOTE.life).
Send your favorite Christian artist's song to a family member or friend in need of inspiration.
Memorize a scripture quote that inspires you so you can share it with others.
Be a living witness of hope by sharing stories of God's love and action in your life.
Say "God Bless You" to end your conversations.
Greet everyone you see with a kind word and a smile.
Connect with a long-time friend who you haven't seen for a while.
Send handwritten cards and thoughtful notes.
Love your neighbor.
Offer words of encouragement that are sincere and backed by your prayer.
Come up with a unique way to let someone know you are praying for them.
Notice and share the beauty of God's creation. A stunning sunrise or sunset. A flower growing. Wind blowing the trees.
Sign up for a good email list that offers daily faith reminders.
Monthly Suggestions to TAKE HOPE HOME!
JANUARY:  In the new year, welcome Christ into your home.   Gather with your family in prayer.   Offer a 'home blessing' dedicating your 'household' to the Lord.
FEBRUARY:  Home is where your heart is!!   Open your heart in greater love to your family members.  Take some time to call your homebound family and neighbors.
MARCH:  The Season of Lent calls us to prepare to 'go home' at the end of our life.  Use the 40 days of Lent to return to the Lord, your God.
APRIL:  In the joy of the Easter season, plant some beautiful flowers around your home…signs of new life and God's joy!!  Invite your family and friends, who you have not seen for a while, to your home.
MAY:  In this month with Memorial Day, let us remember those who never came home from the fight for our freedom and liberty.  Pray for those who, today, serve to protect us.
JUNE:  Catch… or hit… a HOME run!!!   Spend some time with your family this summer.
JULY:  "This land is your land…this land is my land."   Take care of God's creation – our earthly home – which has been entrusted by God to our care.
AUGUST:  Return 'home' to The FEST on Sunday, August 6, 2023.  Invite family and friends to join you.
SEPTEMBER:  Pray for all students as they return to their homerooms in the new school year.  May God keep all students and faculty safe and blessed with a great year of learning.
OCTOBER:  In the coming months, we will be serving the homeless with blankets, coats and winter gear.   Clean out your closets and check The FEST website for drop off locations www.theFEST.us   Together we can bring warmth and hope to those in need.
NOVEMBER:  All Saints and All Souls calls us to remember our loved ones who have died.   Pray for those who have been called home to God.  Go and visit the cemetery.
DECEMBER:  God made His home among us in the birth of Jesus Christ.   Make Christ the center of your home this Christmas and always.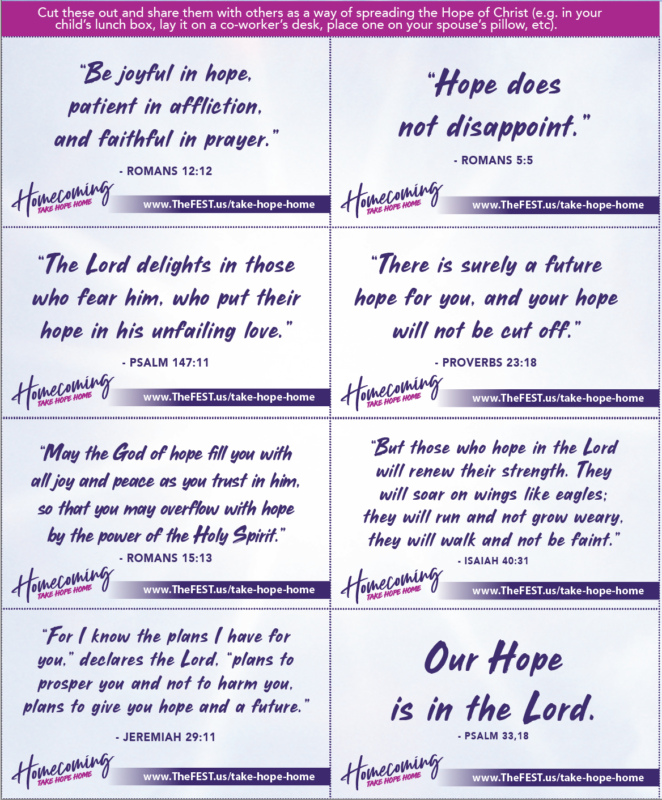 Become a Friend of The FEST
Just add your email and hit subscribe to stay informed.