Scroll down to hear talks from Austin Hatch, Dave and Jane Rossiter, Dave  Dusek , Deacon Steve Mitchell and many more!
David Dusek
David Dusek is the founder of Rough Cut Men, which is primarily a live, interactive men's experience, using a strategic combination of action movie sequences, real-world current events, biblical truth, and "Fireteam" breakout discussions, with a single, laser-focused objective: to get men talking about what's really going on in their lives. David travels around the world, using the Rough Cut Men Movie Experience, to get men to be transparent with one another and with Jesus. A native of Florida, David resides in Sarasota, with his wife and five children. In his free time, he loves dates with his wife, writing, and is a voracious reader. He is also a die-hard fan of the Florida Gators. You can find out more about Rough Cut Men and David at www.roughcutmen.org.
Deacon Steve Mitchell
Ordained for the Archdiocese of Detroit (AOD) in 2002, with a MA in Pastoral Ministry, Dcn. Steve has been a leader in the men's movement in the AOD for many years. He has exercised executive leadership in several technical staffing enterprises, focused on the automotive industry. Launching New Dimension in 1991 from his kitchen table, he grew the business to over $35 million in revenue. As a gifted evangelist, he became the National Director, Alpha–Catholic for Alpha USA in 2009. Alpha is now reaching over 250,000 people annually in Catholic parishes throughout the US. After retiring from AUSA, Dcn. Steve joined the Pastoral Leadership team at Our Lady of Good Counsel, serving as a deacon and assisting on the Evangelization and Discipleship Team.
LEARN MORE:  actsxxix.org
Elvis Grbac
Elvis grew up in Willoughby Hills and graduated from St. Joseph High School, before taking his talent to Ann Arbor, where he played as a quarterback for the University of Michigan, under Coach Bo Schembechler, followed by his successor Gary Moeller. Following a record-setting college career in Michigan, he was drafted by the San Francisco 49ers in 1993 and went on to play nine seasons in the NFL. Throughout his football career, Grbac received many accolades and recognition, including an AFC West title, Pro Bowl appearance, and Super Bowl XXIX Championship. He's also currently working toward his Masters in Theology at St. Mary Seminary & Graduate School of Theology, Wickliffe.
Austin Hatch
Austin Hatch is a two-time plane crash survivor and former Division 1 basketball player. On Labor Day of 2003, Hatch and his family were flying home from their vacation in northern Michigan. As they were preparing to land, the aircraft crashed and burst into flames. Hatch's dad threw him out of the plane, saving his life, and went back into the flames to get his mother, sister, and brother, but tragically his mother, sister, and brother did not survive. A year later, Hatch's dad met a lovely woman named Kimberley, who had three kids of her own. The couple was married about a year after meeting, and together, they had a wonderful blended family.
Meanwhile, Hatch worked hard on his athletic skills and began to have success on the basketball court. Hatch's dream was to play for Michigan. Then on June 15, 2011, Coach Beilein offered him a full scholarship to play basketball at the University of Michigan, which he accepted. Nine days later, on June 24th, 2011, Hatch's father and "second mother" were flying to their vacation home to have a weekend of celebration. As they were preparing to land, the aircraft crashed, and Hatch's father and second mom were killed on impact. Hatch suffered severe injuries and nearly lost his life. After being in a coma for two months, he had to relearn how to walk, talk, eat, and basically how to live his life. With the help of many, many people, and against the odds, Hatch persevered and was able to make a solid comeback to take the place at the university, which was held open for him. Seven years later, Hatch became a graduate of the University of Michigan and is working at Dominos' corporate offices.
Trapper Jack
Tapper Jack has over 30 years of broadcasting experience, is legally blind, and walked away from God for nearly thirty years. Trapper left what he felt was a boring and disconnected God. What brought him back to God has also brought millions of others around the world back to their faith. Faith is the key to keeping people in the pews and bringing back those who have fallen away, while embracing the miraculous.
Twice, his vision has been completely restored. Although both times were for a minute, this was God's way of awakening Trapper to His presence. The miraculous wakes us up and turns us toward God. The miraculous invites us into a real relationship with God. This is the God most people seem to be unaware of. Think God is boring? Trapper felt the same way, but listen to Trapper now. Minute-long standing ovations are not uncommon. Trapper and his wife, Elizabeth, reside in the Cleveland, Ohio area. They have two adult children and are heavily involved in their church.
LEARN MORE:  touchedbyheaven.net
Pete Burak
Pete Burak is the director of Intentional Discipleship (id), the young adult outreach of Renewal Ministries. He is a 2010 graduate of Franciscan University of Steubenville and has a Master's Degree in Theology from Sacred Heart Major Seminary in Detroit, Michigan. Pete is a frequent speaker on discipleship and evangelization, and he is the co-director of Pine Hills Boys Camp. He is the co-founder of the Millennial Church Conference, a monthly columnist for Faith Magazine, the host of a weekly podcast called The Hour, and a member of the USCCB Young Adult Advisory Committee. Pete and his wife Cait have four children.
LEARN MORE:  www.renewalministries.net
Dave and Jane Rossiter
We have been married for over 30 years and work for FamilyLife. This nonprofit organization changes the way relationships, marriages, and families interact with the world, by providing biblical help and hope. We joined FamilyLife as volunteers on the Cleveland/Akron Weekend to Remember team in 1996. We took the role of Weekend to Remember Directors (WTRDs) in 2009, after David retired from ALCOA after 29 years with them . We led the Cleveland/Akron team for two years but were feeling God calling us to more. We attended a training in 2010 at FamilyLife headquarters in Little Rock for WTRDs and were told of FamilyLife's new regional model that was unfolding. With our team, friends, children, and family in Ohio, we chose to stay and become a staff locally.
LEARN MORE:  www.familylife.com
Miguel Chavez
Miguel serves as the Director for the Office of Missionary Discipleship with the Catholic Diocese of Cleveland. He is the proud father of three beautiful kids, Avery, Tessa, and Isaiah. He is married to his loving wife of 14 years, Kristen, and they reside in North Canton, Ohio. Miguel loves to cook and has a number of "award-winning" recipes under his belt. He enjoys running and training for marathons. Miguel completed five marathons, two half marathons, countless 5Ks, and also loves fishing and being outdoors! Recently, he has fallen in love with fly fishing!
Father Andy Turner
Fr. Andy has been a Roman Catholic priest for the Diocese of Cleveland since 2006. He is currently serving on the formation faculty at Saint Mary Seminary, as the Director of Pastoral Field Education, and at Borromeo College Seminary, as the Vice-Rector and Dean of Students. In 2019, he completed studies for a Licentiate in Sacred Theology (S.T.L.) from the Pontifical University of St. Thomas Aquinas and a Doctor of Ministry (D.Min.) from Saint Mary Seminary.
Before becoming a priest, Father Turner graduated from Ohio University in 1998, with a B.S. in Organizational Communication and spent several years as a consultant for Ernst & Young, LLP. Over the last two decades, he has helped organize the annual Diocesan Catholic Family Festival, The FEST, led missionary trips and retreats for youth and adults, and coordinated a home-bound visitation program called Wickliffe Cares.
As for Me and My House, We will Serve the Lord.
Listen to two wonderful stories. These men are building their lives on the foundation that is Jesus Christ. We have the perfect role model as men of faith. Raise and remind our children to walk in the light of Christ. If we do that, God will lead them in ways completely unimaginable to us!
Why Choose Unity Catholic Federal Credit Union?
At Unity, we work with you to make your dreams a reality, today. We offer you better rates and personalized services, giving you greater control of your money.
We are Federally Insured, so your money is safe. We're part of the Co-Op Shared Branch Network which gives you 6,000 branches nationwide, making credit unions the second largest branch network in the nation.
Our members have trusted us since 1942 to help them turn their financial goals into fantastic realities. LEARN MORE!
The Power of Unity with Pastor Larry Macon
As a leader, author, motivational speaker, and recording artist, Pastor Larry Macon currently serves as the Co-pastor of Mt. Zion Church of Oakwood Village, a ministry that now serves a membership of more than 6,000 people and is one of the largest churches in the Greater Cleveland area. Pastor Macon has devoted his life to helping others, by teaching at conferences, writing books, and coaching individuals who seek his counsel.
His philanthropic efforts lie in his role as organizer of the Haitian relief efforts for the Mt. Zion Ministry and Safe Surrender—a program which works with the U.S. Marshals to bring in more than 7,000 people with outstanding warrants. He oversees relief efforts for those in need of food and encouragement, through the City Mission and the Nursing Home ministries.
LEARN MORE: www.larrymaconjr.com
Eucharist Presentation by Greg Wasinski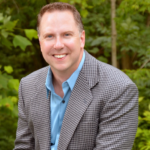 Greg Wasinski is the Creator and Producer of the Faith and Real Life Initiative. Through his role as Executive Director of "Let Me Be…" Ministries, Greg utilizes his vision to create relative, quality content.  Wasinski is an internationally recognized, inspirational speaker and author from Cleveland, Ohio and has been the FEST Main Stage Emcee for the last nine years. He offers his radio talents, as a daily contributor to SiriusXM Radio's The Catholic Channel and EWTN Radio, with his "Faith & Real Life Moments." He is the voice and personality of the Faith & Real Life Podcast and the Faith 180 video series. Prior to his life in ministry, Greg had a career for 13 years, as a corporate executive, in both the marketing and golf course industries. He continues to offer business coaching and motivational work sessions to companies, who are serious about customer service, a team-based work environment, and servant leadership-based management.
Steve Whitt – Can you hear God's voice?
Mick Naples
Mick holds a Master of Education Degree, from Youngstown State University and is finishing a Master of Arts in Biblical Counseling, from The Master's University. He is a counselor with the Association of Certified Biblical Counselors and an instructor with the Biblical Counseling Institute of Ohio. He is the author of Journey Well: A Biblical Guide to Life's Most Practical Lessons.
Check out his latest book "Journey Well" by clicking the link www.journeywellbook.com
Journey Well | A Biblical Guide to Life's Most Practical Lessons from Mick Naples
The Parable of the Pharisee and Tax Collector | Reflection from Mick Naples
Dignity Beyond Debate
As Catholics, we have a long tradition of engagement in the political process, as a means of putting our faith into action. We are called to bring the best of ourselves and our faith to the public square—and yet today, many shy away from such involvement, because our national and local conversations are filled with vitriol and harsh language, often directed at people themselves.
When personal attacks replace honest debate, no one wins. This kind of attack, no matter the reason, only serves to further divide our communities.  As Catholics, we must model a better way. We invite you to join the Civilize It campaign, by taking the pledge below as a way to promote civility, love our neighbors, and build community.
Civilize It is about making room in your heart for those with whom you disagree. We are called to recognize each one of us is a beloved child of God and to respond in love to that reality. Civilize It is a non-partisan call to focus on the dignity of all people, even when we disagree, and to put faith in action, by bearing witness to a better way forward.
Renew the "I Do" Foundation
Our mission is to inspire marriages to THRIVE in today's culture, guided by research, science and the Holy Spirit.
We realize the challenges we face. Our media and culture promote and normalize immorality and broken families, which result in loneliness and hurt, often leading to many other problems. Research shows the best way to strengthen communities is by strengthening marriages. This makes sense, since families are the heart of our community, and strong marriages lead to overall health and happiness for the whole family. Renew the 'I do' Foundation was founded on this premise.
"As the family goes, so goes the nation and so goes the whole world in which we live." ~Pope St. John Paul II
A strong marriage provides the foundation each family needs to thrive. Renew the 'I do' offers unique date nights, marriage preparation weekends, couples mentoring, renewal of vows Masses, and organic married health. We also gather the latest and most compelling research, studies, articles, and videos from partner institutes studying relationships, family, and culture, all widely supporting the importance of thriving marriage and teaching effective ways to inspire it through all stages of life.
LEARN MORE: www.renewtheido.org
Become a Friend of The FEST
Just add your email and hit subscribe to stay informed.