Welcome to the Mom's Kitchen!
Make one of these delicious meals with your kids for dinner.
Find quick and easy time-saver recipes, fun recipes for your family, yummy desserts to make with your kids!
While cooking, enjoy the music from our bands on the main stage! Don't forget dessert!
Confetti Appleslaw
Confetti Appleslaw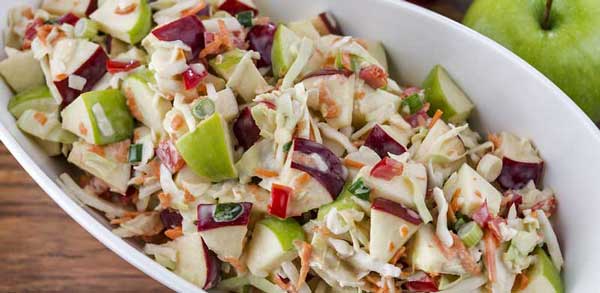 INGREDIENTS
2 tablespoons orange or Mott's® Fresh apple juice concentrate, defrosted
1 Mott's® Fresh red and/or green apple, unpeeled, cored and diced
4 cups cabbage, shredded
2 small red onions, finely shredded
1 red or green sweet pepper, thinly sliced
1/2 cup carrot, shredded
3 tablespoons raisins (optional)
1 tablespoon low-fat mayonnaise
1/2 cup plain low-fat yogurt
1/2 teaspoon dry mustard
paprika to taste
freshly ground black pepper to taste
PREPARATION
In a large bowl, stir together juice concentrate and diced apples. Add cabbage, onion, sweet pepper, carrot, and raisins.
In a  small bowl, stir together, mayonnaise, yogurt, mustard, paprika, and black pepper. Add to vegetable/fruit mixture.
Cover tightly and refrigerate until ready to serve.
ORIGINAL RECIPE AT:  www.mottsfresh.com/project/confetti-appleslaw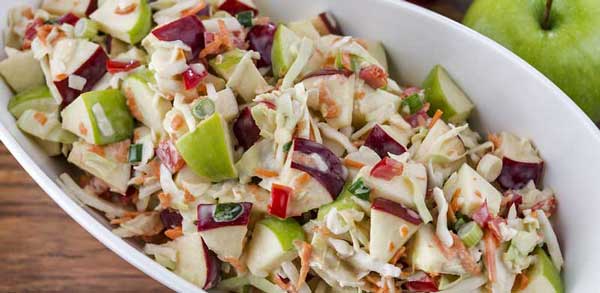 Apple Stuffed Pork Chops
Apple Stuffed Pork Chops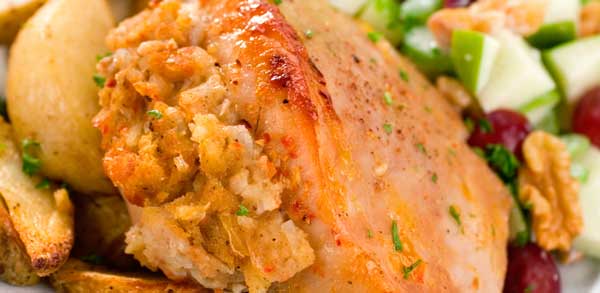 INGREDIENTS
3/4 cup finely chopped celery
1/4 cup finely chopped onion
1/4 cup butter
4 cups 1/2-inch dry bread cubes* (any bread except rye)
1 small Mott's® Fresh apple, peeled, cored, and shredded (1/2 cup)
1/8 teaspoon salt
1/8 teaspoon ground cinnamon
Dash ground nutmeg
Dash ground cloves
Dash pepper
1/4 cup Mott's® apple juice
3 to 4 tablespoons chicken broth
4 pork loin rib chops, cut 1-1/4-inches thick
2 tablespoons butter or margarine
PREPARATION
For the stuffing, in a large skillet, cook celery and onion in the 1/4 cup butter for 3 to 5 minutes or until tender.
In a large bowl, combine bread cubes, apple, salt, cinnamon, nutmeg, cloves, pepper, and cooked vegetables. Toss to mix. Add the apple juice and enough broth to moisten; toss gently until combined.
Cut a pocket in each chop from the fat side almost to the bone. Spoon stuffing mixture into each pocket. If necessary, secure the pockets with wooden toothpicks. (Place any remaining stuffing in a small casserole and place in oven during the last 20 minutes of baking or until heated through.)
In the same large skillet, brown stuffed chops on both sides in the 2 tablespoons butter. Transfer the chops to a large baking pan or dish. Bake, uncovered, in 375˚F oven for 35 to 45 minutes or until juices run clear.
* To make dry bread cubes, cut bread into 1/2-inch cubes. (You'll need 6 to 7 slices of bread for 4 cups dry cubes.) Spread in a single layer in a shallow baking pan. Bake in a 300˚F oven for 10 to 15 minutes or until dry, stirring twice; cool. The bread will continue to dry and crisp as it cools.
NUTRITION FACTS

One serving equals 458 calories, 28 g fat, 107 mg cholesterol, 558 mg sodium, 29 g carbohydrate
ORIGINAL RECIPE  www.mottsfresh.com/project/apple-stuffed-pork-chops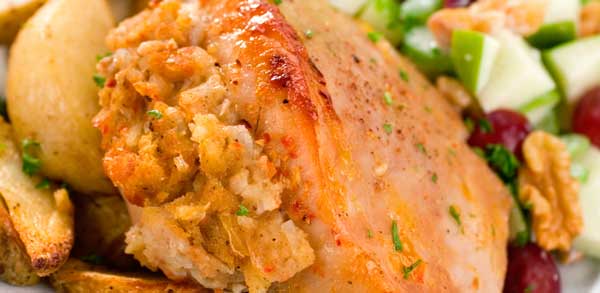 Easy Apple Dumplings
Easy Apple Dumplings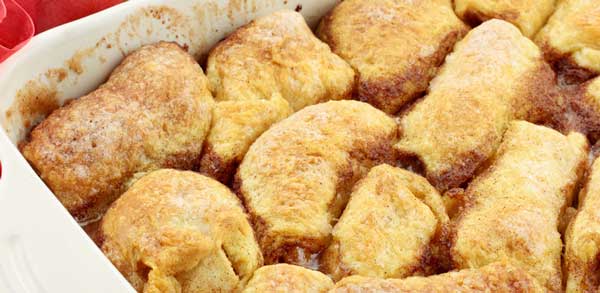 INGREDIENTS
1/2 cup (1 stick) unsalted butter
1 cup Motts® apple juice
1 cup packed light brown sugar
1 teaspoon ground cinnamon
1 1/2 teaspoons vanilla
2 – 8 ounce cans refrigerated crescent rolls
2 medium Motts® Fresh Granny Smith apples, peeled and cored
PREPARATION
Heat oven to 350˚F and grease a 9×13-inch baking pan with cooking spray.
In medium saucepan set over medium-high heat, combine butter, apple juice, brown sugar, and cinnamon. Cook, stirring, until butter is melted and the mixture comes to a rolling boil. Remove from heat and stir in the vanilla. Set aside.
Tear apart the crescent rolls and arrange the triangular-shaped pieces of dough on your work surface.
Cut each of the apples into 8 wedges. Place an apple wedge on the widest side of the triangle then roll the apple up with the dough. Arrange the dumplings in the greased pan and then pour the apple juice mixture on top of and around the dumplings.
Bake the dumplings for 25-30 minutes or until the dough is cooked through and they are golden brown. Remove dumplings from the oven and allow them to cool for 5-10 minutes before serving.
For an added indulgence, top with a scoop of vanilla ice cream or whip cream.
Servings

Makes 16 servings. Takes 50 minutes.
ORIGINAL RECIPE  http://www.mottsfresh.com/project/easy-apple-dumplings/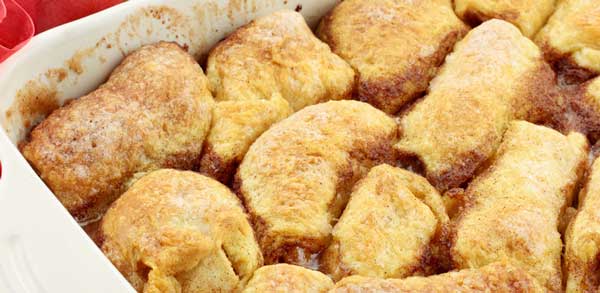 Microwave Fried Apples
Microwave Fried Apples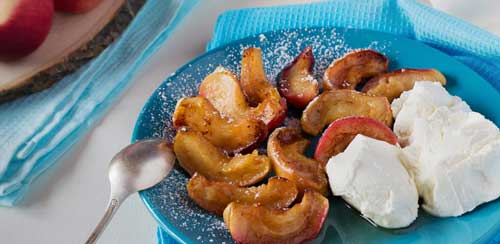 INGREDIENTS
8–10 Mott's® Fresh apples, medium, peeled (optional), cored and cut into sections or pieces
2 tablespoons margarine
1/2 teaspoon nutmeg
1/2 teaspoon brown sugar
1/2 teaspoon cinnamon
2 teaspoons lemon juice
powdered sugar (optional)
PREPARATION
Place prepared apples in a large mixing bowl. Sprinkle lemon juice over apples and toss gently to coat.
Sprinkle soft or melted margarine over apples and add brown sugar, cinnamon, and nutmeg. Toss thoroughly until brown sugar, lemon, margarine, and nutmeg coat the apples. Keep tossing (1–2 minutes) until apples begin to weep and a light glaze covers each apple.
Lightly butter glass or microwave safe baking dish and pour apple mixture evenly in pan or dish. Cover with plastic wrap and pierce for steam to escape.
Microwave for 8 to 10 minutes on high. Toss and stir and microwave 4 to 5 more minutes.
Sprinkle with powdered sugar and serve with your favorite cheese if desired.
Servings

Makes 8 servings.
ORIGINAL RECIPE  www.mottsfresh.com/project/microwave-fried-apples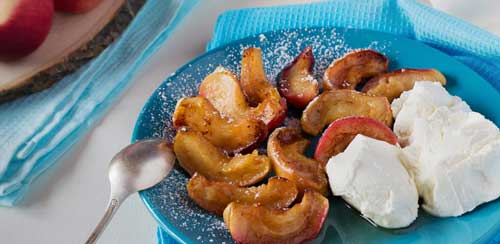 Oats With Caramelized Apples
Oats With Caramelized Apples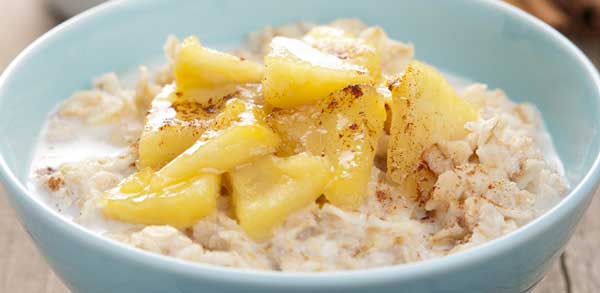 INGREDIENTS
1-1/2 cups water
1-1/2 cups unsweetened almond milk (or milk, soy, or water)
1/2 cup steel cut oats (or regular oats)*
1/2 teaspoon cinnamon
2 tablespoons butter
2 tablespoons brown sugar
1 Mott's® Fresh apple, cored, peeled, and sliced
1/2 teaspoon cinnamon
2 pinches nutmeg
1 scant tablespoon fresh lemon juice
2 tablespoons brandy or rum (or use 2 tablespoons Mott's® apple juice)
Pinch of salt
PREPARATION
In a large saucepan, bring milk and water to a boil. Add the steel cut oats and cinnamon, reduce heat to low, stirring occasionally until creamy and cooked through.
In a medium skillet over medium heat, heat butter until melted, add the sliced apples, and toss until coated with butter. Sprinkle with the sugar, cinnamon, nutmeg, and stir. Cook for 5 to 7 minutes, until the apples have softened. Add in the lemon juice and brandy. Cook for an additional minute or two until the sauce is slightly reduced.
Spoon the warm apples over the oatmeal and serve.
*Cook oats according to package directions.
Servings

Makes 2 servings.
ORIGINAL RECIPE  www.mottsfresh.com/project/oats-caramelized-apples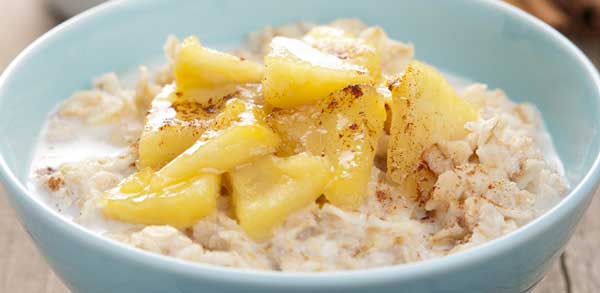 Golden Fruit Salad
Golden Fruit Salad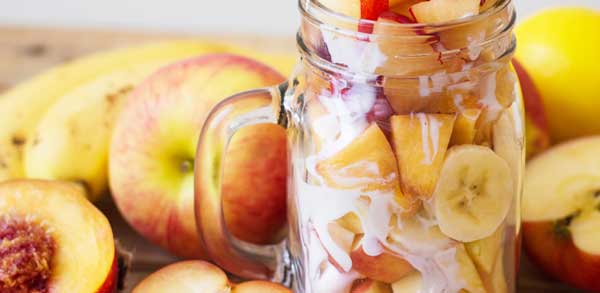 INGREDIENTS
2 Mott's® Fresh apples, cored, peeled, and diced (any variety)
1 banana, peeled and sliced
1 nectarine, diced
3 cups plain low fat yogurt
2 to 3 tablespoons orange juice
dash of nutmeg
PREPARATION
Combine all fruits; mix well.
Combine yogurt, orange juice, and nutmeg in a bowl and mix well. Pour orange yogurt dressing over fruit and mix well. Serve.
Sweeten with honey if desired.
Servings

Makes 3 servings.
ORIGINAL RECIPE  www.mottsfresh.com/project/golden-fruit-salad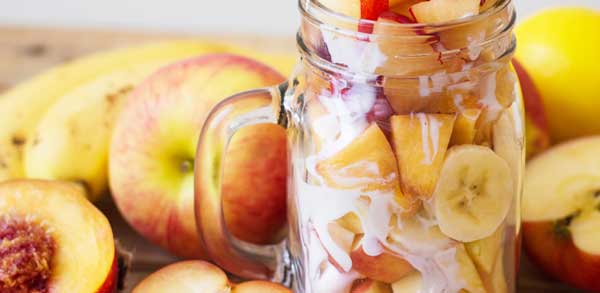 Spicy Southern Shrimp Kabobs
Spicy Southern Shrimp Kabobs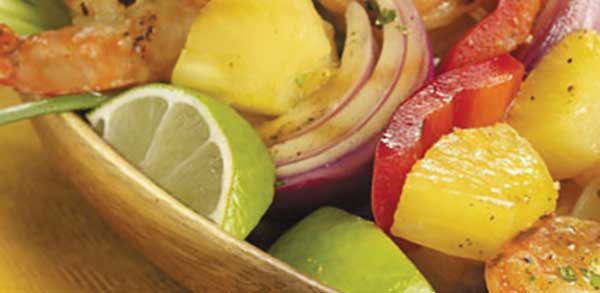 Ingredients
2 cups fresh DOLE® Tropical Gold® Pineapple, cut into chunks
1/2 lb. large shrimp, peeled
1 DOLE Red Onion, cut into chunks
1 large DOLE Red or Green Bell Pepper, seeded, cut into chunks
2 tablespoons butter substitute, melted
1/4 teaspoon dried oregano, crumbled
1/4 teaspoon dried thyme, crumbled
1/4 teaspoon salt
1/8 teaspoon ground red pepper
1/8 teaspoon black pepper
Directions
SOAK 8 to 12 (8-in.) wooden skewers in water 5 minutes. For each kabob: alternate on skewer pineapple chunks, shrimp, onion, bell pepper chunks. Arrange skewers on rack in broiler pan coated with vegetable cooking spray.
COMBINE butter substitute and seasonings, in small bowl; brush over kabobs.
GRILL or broil 4 to 5 minutes on each side, basting and turning occasionally until shrimp turn pink. Brushing with seasoned sauce during grilling. Discard sauce.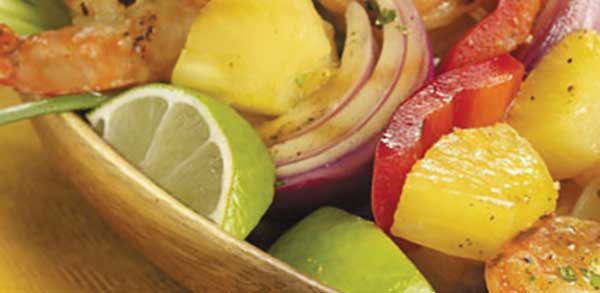 Chicken with Broccoli and Parsley Walnut Pesto
Chicken with Broccoli and Parsley Walnut Pesto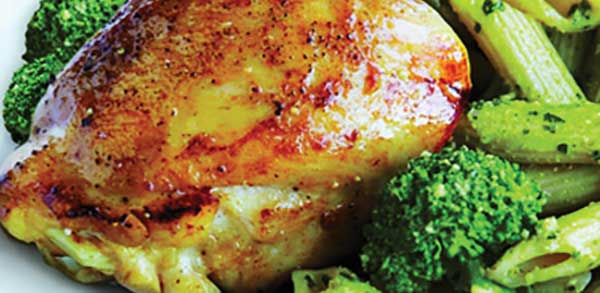 Ingredients
1/4 cup walnuts
1 large clove garlic, smashed
1 cup fresh parsley
1 teaspoon dried oregano
1/2 teaspoon salt, divided
1/8 teaspoon ground black pepper
1 tablespoon lemon juice (from 1/2 lemon)
2 tablespoons olive oil + 1 teaspoon
4 skinless chicken thighs (about 8 ounces each)
8 ounces gemelli or penne pasta
1/2 pound DOLE® Broccoli Crowns, chopped into florets (about 3 cups)
Directions
TOAST walnuts and garlic in a dry skillet over medium-high heat for 3 to 4 minutes, until fragrant. Transfer to a food processor. Add the parsley, oregano, and 1/4 teaspoon of salt. With the motor running add the lemon juice and 2 tablespoons olive oil. Transfer mixture into serving bowl.
HEAT the remaining teaspoon of olive oil in a large nonstick skillet over medium-high heat. Season the chicken thighs with remaining 1/4 teaspoon salt and pepper and arrange in skillet. Cook for 10 to 15 minutes turning once, until lightly brown on both sides. Chicken is cooked through and a thermometer inserted in the thickest part measures 160°F.
MEANWHILE, bring a large pot of water to a boil. Cook pasta according to package instructions. In the last 2 minutes of cooking time, add the broccoli. Drain and transfer pasta and broccoli to serving bowl. Toss to coat. Serve with chicken thighs.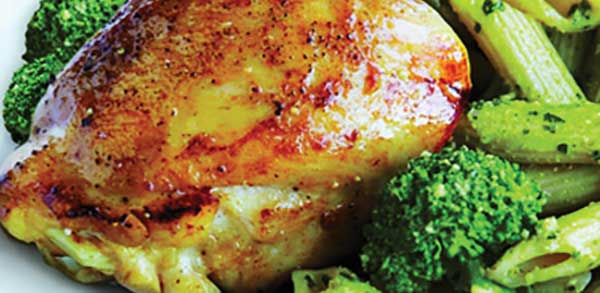 How to Build an Entrée Salad
How to Build an Entrée Salad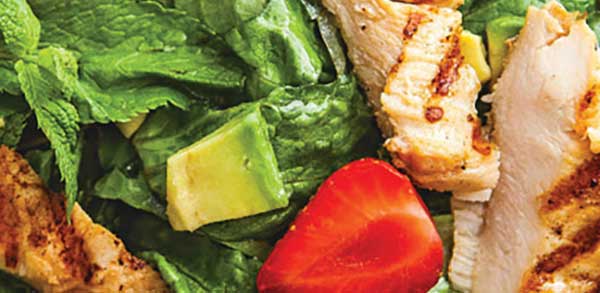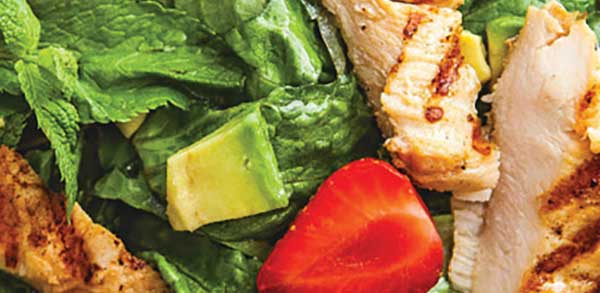 Tips for Creating a Nutritious and Balanced Salad as a Meal
Salads can make a light appetizer or side, but when it comes to a meal, a simple salad may not be enough. Whether it's a bagged lunch for school or a quick weeknight meal, here is your roadmap to a perfectly balanced entrée salad:
Start with a green base. Spinach and baby kale are among the most nutrient-dense options, but kids may prefer the milder taste of Romaine or butter lettuce. Even the oft-dismissed iceberg offers 25% of daily vitamin K per serving, so choose whichever green your palate is craving that day and pile it into your bowl.
Add more nutrition, in the form of fruits and vegetables. Aim for about one cup total (more for some adults, maybe less for some kids) and try to vary the colors so you get a mix of nutrients. Crunchy orange carrots bring vitamin A, while juicy red tomatoes bring the antioxidant lycopene. "I use leftover roasted vegetables from dinner in my salads for lunch the next day," says Jenn LaVardera, MS RD, dietitian for Dole. "Roasting vegetables transforms the taste and texture. Cauliflower, Brussels sprouts, broccoli and sweet potatoes are some favorites." For a little sweetness, add some fruit—berries or segments of citrus like orange or grapefruit work well in salads.
Choose a lean protein, such as chicken, tuna, salmon or a vegetarian source like quinoa or tofu. "To build a hearty entrée salad, try adding beans," advises Chef Mark Allison, Director of Culinary Nutrition for Dole. "Beans are high in fiber and are packed with antioxidants. They're good for the waistline, may aid in disease risk reduction, and add creamy texture." Keep portion sizes in check: Poultry and fish should be the size of a deck of cards (3 ounces), while a serving of beans or quinoa is ½ cup.
Pick healthy fats, like avocado, olives, nuts, seeds or a little feta cheese. Fat promotes satiety and can even increase the amount of fat-soluble nutrients—including vitamins A and K—your body absorbs. Just don't go overboard! You want roughly one ounce of fat total: about a quarter cup of nuts or cheese, six large olives, or a quarter of a large avocado. If you are using an oil-based dressing, you'll have some fat there too, so you would want to add a little less.
Dress it up! A simple drizzle of olive oil and a squeeze of lemon juice allows the flavors of the salad to come alive in your bowl, but you can certainly get more creative too. Infused oils and balsamic vinegars are great investments, or make your own dressing at home.
Check out dole.com for some of our favorites. Need a little more inspiration? Our Viva Verde Veggie Salad starts with a base of kale and adds red bell pepper and jicama, black beans and quinoa for protein, avocado for healthy fat and Salsa Verde Vinaigrette to tie it all together.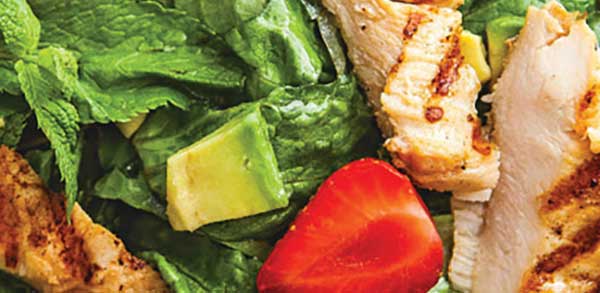 Lemonade Quick Bread
Lemonade Quick Bread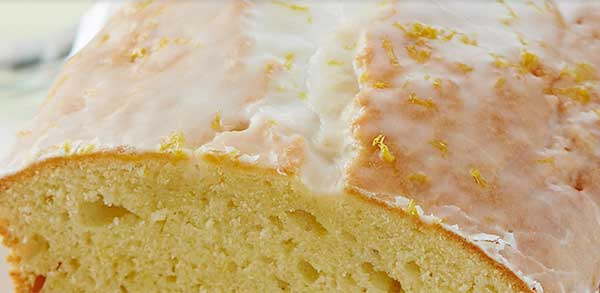 Ingredients
3/4 cup Tropicana ® Lemonade
3/4 cup butter, room temperature
1 1/4 cups sugar
3 eggs
1 tbsp lemon zest
1 tsp vanilla extract
3/4 cup sour cream
3 cups flour
2 tsp baking powder
1/2 tsp baking soda
1/2 tsp kosher salt
Lemonade Glaze
1/2 cup icing sugar
1 tbsp Tropicana Lemonade
Lemon zest, for garnish
How to Make it
Preheat oven to 350ºF. Coat a 9×5‑inch loaf pan with non‑stick cooking spray.
In an electric mixer, cream butter and sugar on medium speed until well blended. Add the eggs one at a time, beating well after each addition. Add the lemon zest and vanilla extract, mixing until combined. In a small bowl, whisk sour cream and lemonade together and set aside. In another bowl, combine flour, baking powder, baking soda and salt. On low speed, alternate adding the sour cream/lemonade mixture with the flour mixture, beginning and ending with the flour. Mix just until the flour disappears.
Pour into prepared loaf pan and bake for 65 minutes until golden around the edges and cooked through. Let cool in pan for 10 minutes before removing.
Once bread is cool, prepare the lemonade glaze. In a small bowl, whisk icing sugar and lemonade together. Brush glaze over top of bread and sprinkle with lemon zest.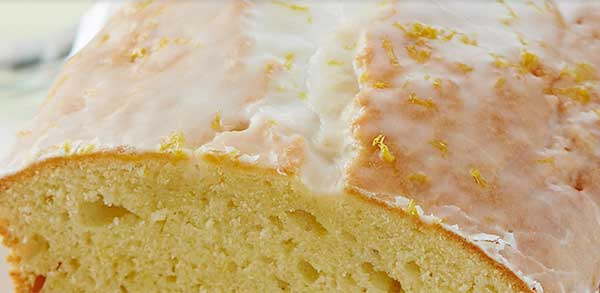 Strawberry Sunrise Breakfast Pops
Strawberry Sunrise Breakfast Pops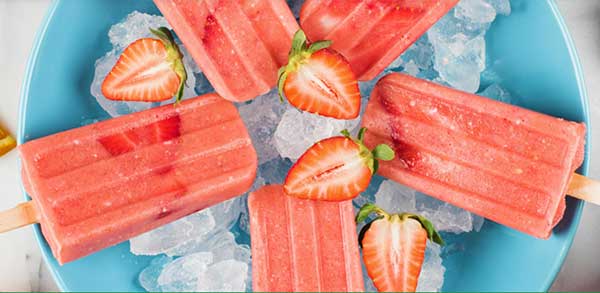 Ingredients
1 3/4 cups (425 mL) Tropicana Pure Premium® Orange Juice or Tropicana Pure Premium with Calcium + Vitamin D
1 banana, peeled and sliced
1 1/2 cups (375 mL) sliced strawberries, divided
1/4 cup (60 mL) Quick Quaker® Oats
2 tbsp (30 mL) honey
How to Make it
In blender, blend together orange juice, banana, 1 cup (250 mL) strawberries, oats and honey.
Pour into 10 ice pop moulds; divide remaining strawberries evenly among moulds. Insert wooden sticks into each pop and freeze for 8 to 10 hours or until firm.
Tip: Replace strawberries with chopped, peeled fresh or frozen mango if desired.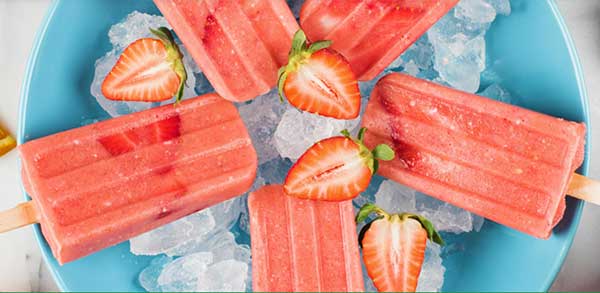 Almond and Apricot Oatmeal Breakfast Bars
Almond and Apricot Oatmeal Breakfast Bars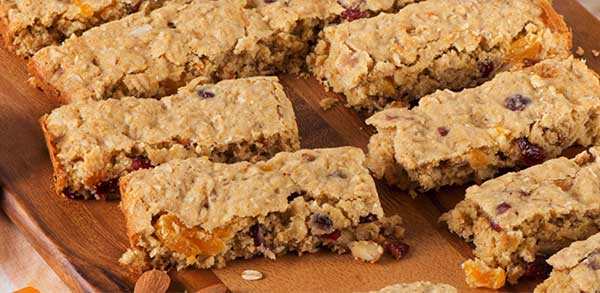 Ingredients
1/2 cup (125 mL) Tropicana Pure Premium® Orange Juice , warmed
1/3 cup (75 mL) each chopped dried apricots and dried cranberries
2/3 cup (150 mL) butter, softened
3/4 cup (175 mL) packed brown sugar
1 egg
1 1/4 cups (300 mL) all‑purpose flour
1 1/2 cups (375 mL) Large Flake Quaker® Oats
1/2 tsp (2 mL) each baking powder and baking soda
1/4 tsp (1 mL) salt
1 cup (250 mL) chopped natural almonds
How to Make it
Preheat oven to 350°F (180°C). Line 13‑ x 9‑inch (3.5 L) baking pan with parchment paper or grease well. Soak apricots and cranberries in warm orange juice for about 10 minutes or until softened. Strain and reserve juice.
Meanwhile, beat together butter, brown sugar, reserved orange juice and egg. Stir together flour, oats, baking powder, baking soda and salt. Stir in apricots, cranberries and almonds; stir into butter mixture..
Spread evenly in prepared pan. Bake for 25 to 30 minutes or until firm; let cool in pan for 1 hour. Cut into bars; let cool completely.
Tip: Replace almonds with walnuts if desired.
Tip: Store in airtight container for up to 3 days.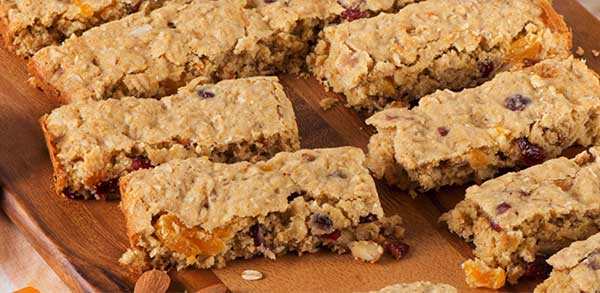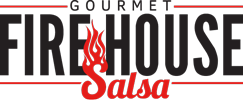 Learn some recipes from our friends at Gourmet Firehouse Salsa!  Click any image to view the recipe.
Shrimp Tacos with Mandarin Orange Habanero Salsa
Shrimp Tacos with Mandarin Orange Habanero Salsa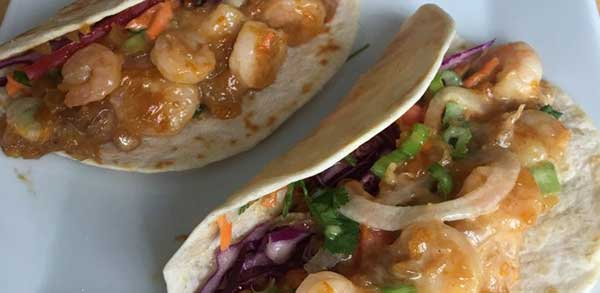 Ingredients:
½ lb. of shrimp (cooked or raw)
6 flour tortillas
1 small head of red cabbage
1 small sweet onion
1 carrot
1 red bell pepper
2 green onions
2 tablespoons of mayonnaise
1 jar of Gourmet Firehouse Salsa's Mandarin Orange Habanero Salsa (Mild, Medium, or Hot)
Fresh cilantro
1 teaspoon of olive oil or vegetable oil
salt
Directions:
Finely shred the red cabbage and onion.
Grate the carrot and thinly slice the red bell pepper.
Chop the green onions and cilantro.
Set all ingredients aside separately.
For the sauce:
Mix 6 tablespoons of salsa with 2 tablespoons of mayonnaise.
Place the cleaned shrimp in a skillet and use about half of the sauce to sauté the shrimp until fully cooked and the sauce has thickened.
While that is simmering, lightly oil the flour tortillas with salt on one side.
With oil and salt side down, brown the tortilla on medium heat until it starts to brown. Flip over and lightly brown the other side.
Time to build your shrimp taco!
Add all the ingredients onto the tortilla.
Add a little sauce from the above mix.
Add the sautéed shrimp on top with a little more sauce.
* Note: This recipe is also great with fish! Our Pineapple Habanero Salsa can be used with these ingredients as well.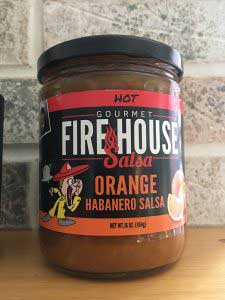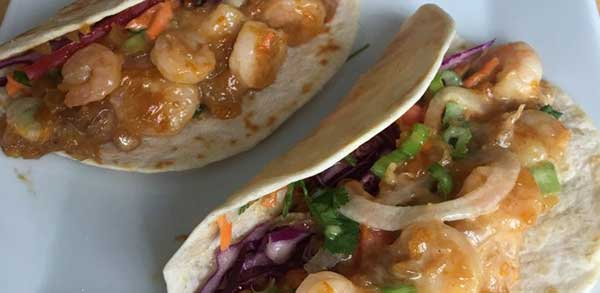 Bacon Wrapped Sausage with Mango Habanero Salsa
Bacon Wrapped Sausage with Mango Habanero Salsa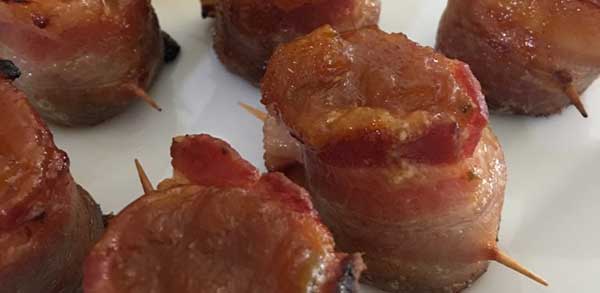 Ingredients:
½ lb. of bacon
½ lb. of sausage (Eckrich or Hillshire Farm type)
4-5 tablespoons of Gourmet Firehouse Salsa: Mango Habanero or Pineapple Habanero
2-3 oz. of goat cheese, cream cheese, or smoked Gouda
Toothpicks
Directions:
Cut the bacon strips in half.
Cut the sausage ¾ inch thick.
Roll the sausage with the bacon using the outside portion of the sausage.
Leave some bacon overlap toward the top of the roll to use as a cup to hold the cheese and salsa.
Slide a toothpick through the bacon and sausage to hold it together.
Drop a small amount of cheese on top followed by a dollop of salsa.
Spray or grease a baking dish or pan and place it into a preheated oven of 400 degrees. Cook for about 15-20 minutes or until the bacon is completely cooked.
Let them cool for a few minutes before biting into a wrapped bite!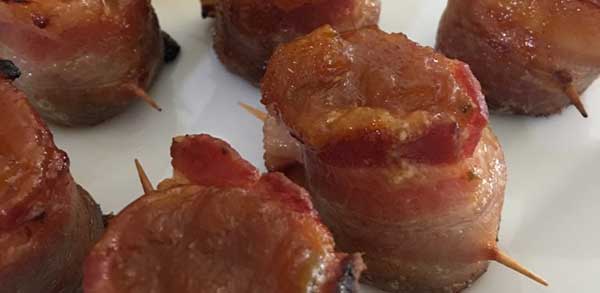 Pineapple Habanero Salsa Pizza
Pineapple Habanero Salsa Pizza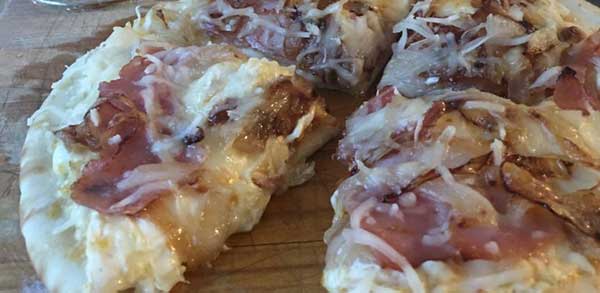 Ingredients
Pita pocket bread – 6″ round
3-4 tablespoons of our Pineapple Habanero salsa (Mild, Medium, or Hot)
3-4 ounces of cream cheese
3-4 ounces of shredded pizza-style cheese
1-2 slices of ham
1 small onion
1 tablespoon of olive oil
1 tablespoon of butter
Directions:
Chop the ham slices and finely slice the onions.
In a small sauté pan on medium heat, cook the onions and ham with olive oil and butter until light brown.
Preheat the oven to 350°F degrees.
Place the cream cheese in a small bowl and microwave for about 15 seconds to soften.
Add our Pineapple Habanero salsa to the softened cream cheese and blend together.
Spread the mixture onto pita pocket bread. Sprinkle shredded pizza-style cheese on top.
Place the ham and onions on top of the cheese, followed by a little more shredded cheese.
Bake at 350°F degrees for 15 minutes. Place directly on the rack for a crispier crust.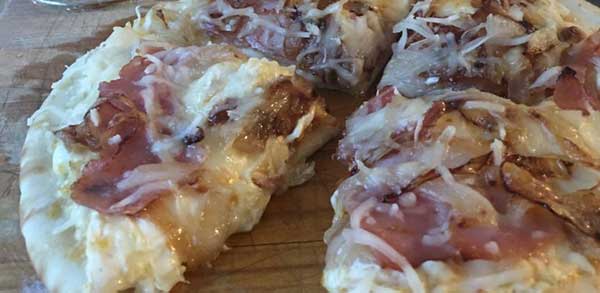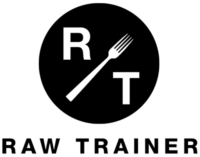 Guilt-Free Desserts
Try making some sweet treats from RawTrainer!
Looking for a cure that started from the inside, Marisa Pelser began her raw food journey and began educating the community on plant-based nutrition and wellness. Today, Marisa is a wife, mother of 5 and lead creative force behind Raw Trainer Instant Mixes and the Real Food CLE Meal Delivery Service.  www.rawtrainer.com
Share a Favorite Recipe!
We'll update this page with recipes submitted for all to enjoy.

Become a Friend of The FEST
Just add your email and hit subscribe to stay informed.