Guys…join us at the Man Cave!
Good, holy, Godly men also have fun…play hard…have garages to clean…kids to raise, and important work to do. This year's Man Cave has something for every guy to help you have a full life and pass on what is best to the next generations.
2019 Man Cave Winners:
Keith Aspery – Autographed Hockey Puck
Bill LaPage – Autographed Hockey Puck
Dave Meier – Cleveland Monsters Tickets
Marck St. Clair – Yeti Cooler
Man Cave Highlights:
• Games to play (putt-putt, pool, air hockey and more)
• Inspiring ideas
• Great speakers to engage your mind and heart
• FREE giveaways (to take care of you and your family)
Sign up to win a Yeti Cooler and other great stuff.

Even more, find the wisdom and encouragement to be 'strong men' for your family and our community.
Volunteer for The FEST
Do something great and give a couple hours of your time on FEST day. Sign up with a friend or family member.
FEST Man Cave Speakers
1:00 Dave Rossiter The Man and His Marriage: One thing you need to take your marriage from "Blah" to "Harah"
2:30 Elvis M. Grbac "From Success to Significance"
Elvis Grbac is a retired football quarterback who played in the NFL as a starting quarterback for the San Francisco 49ers, the Kansas City Chiefs, and the Baltimore Ravens.
4:15 Pastor Omar Medina
"Perseverance: Never Give up". Pastor Medina is President of the United Hispanic Pastor's Fraternity, and Member of Hispanic Alliance
4:15 Trapper Jack "Seeing God: When his eyes failed, his heart found truth". You know his voice from the radio. Come hear Trapper Jack tell the story of how he found God through the incredible journey of loosing his eyesight.
5:45 David Nico Hill Formerly known as "Nico the Dragon," David Nico Hill was one of the pioneers of MMA. His fighting skills introduced him to the movie industry where he has appeared in over 30 cinematic features and stared in his own Spike TV television series.
A Prayer for Men and Dads Everywhere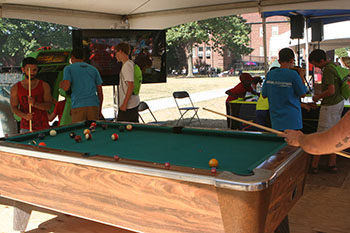 A Blessing from the Apostle Paul
May God, out of his glorious riches, strengthen you with power through his Spirit in your inner being, that Christ may dwell in your heart through faith.
May you, being rooted and established in love, have power, together with all the Lord's holy people, to grasp how wide and long and high and deep is the love of Christ, and may you know this love that surpasses knowledge, that you may be filled to the measure of all the fullness of God.
May God, who is utterly able, do immeasurably more for you and in you than all you can ever ask or imagine.
(based on Ephesians 3:16-19)
Man Cave Giveaways Pre-Registration