Explore all areas of The FEST In-Person!
FEST Event Program!
Flip through to find a full schedule of events, helpful information, resources and inspiration to TAKE COURAGE! Thanks to FEST sponsor LPI for printing this great resources for our attendees.
Welcome Message from Fr. Bob Stec
It's a great blessing for us to come together this year for an inspiring day of faith, family and fun. Thank you for joining us…some in person…and others from the safety of your home. What's most important is that we are coming together to celebrate our faith and renew our trust in Jesus Christ.
Our FEST day includes the most amazing Christian artists along with hundreds of activities, presentations, and displays to help you and your loved ones reflect on the invitation of Jesus to 'TAKE COURAGE.' Our future is bright and full of hope because the Lord is with us – now and always.
Special thanks to all of our sponsors and vendors. Please join me in thanking them for their support and involvement with The FEST.
God bless you. Enjoy your day at The FEST.

Father Bob Stec
on behalf of The FEST team
P.S. We are so blessed to welcome Bishop Malesic to The FEST. He will be presiding at Mass at 8:15pm. Last year he watched The FEST as he was packing on his way to Cleveland. This year we are blessed to have him join us and lead us in prayer.
FEST Seek 'n Find!
Win Prizes by Visiting Tents
The FEST grounds are filled with wonderful and inspiring displays and activities.  As you explore The FEST,  Seek 'N Find inspiring people, great resources, and the inspiration you need for a joyful, hopeful future.  Snap a picture of the QR code at each tent or go to www.TheFEST.us/Map. It will enter you to win some amazing prizes. 

Awesome prizes, thanks to our friends at Meritech and Marc's!
• 4 Indian Tickets Saturday, September 25
• 2 Browns Tickets Sunday, October 17
• IPAD Pro 256 GB
• Kyocera All-in-one Color Copy Print Scan Fax with Wi-Fi installed
• 5 – $100 Marc's giftcards
FEST Giveaways
The FEST is supported by incredible sponsors who truly believe in The FEST!  As a sign of their appreciation, they want to give YOU something to use year-round to remember The FEST! Stop by these tents, say thanks to our sponsors and get your FEST collectible!


TAKE COURAGE is the theme for FEST 2021!
At once, Jesus spoke to them,
"Take courage, it is I; do not be afraid."
– Matthew 14:27
TAKE

LEAD WITH

STAND WITH

PRAY FOR

TRUST IN
COURAGE
After a year of being tossed about in the storm, our future is bright and hopeful because the Lord is with us. He said to those earlier followers (and each of us), "Take Courage, it is I." We can walk forward into a bright and hopeful future not because the storm or the pandemic has passed, our courage and our hope come from the Lord.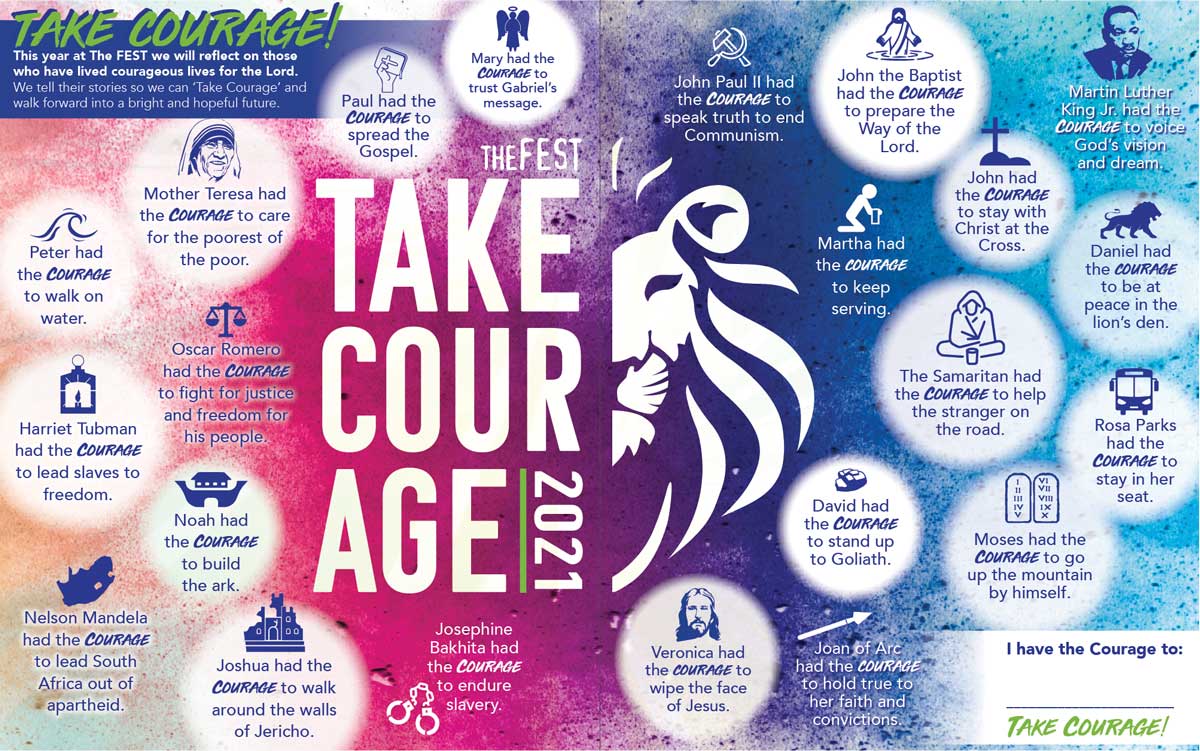 Become a Friend of The FEST
Just add your email and hit subscribe to stay informed.