The FEST 2019 Theme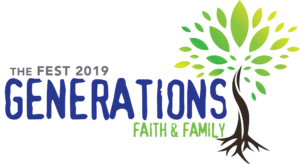 generation
noun
gen·​er·​a·​tion | \ ˌje-nə-ˈrā-shən \
Definition of generation
a body of living beings constituting a single step in the line of descent from an ancestor
a group of individuals born and living contemporaneously
the average span of time between the birth of parents and that of their offspring
The theme for FEST 2019 is Generations.
The FEST has been blessed to help celebrate and impact a Generation of followers of the Lord.  We come together each year to celebrate what matters most – faith and family.  We use FEST 2019 to reflect on what is most important for us to pass on from one generation to the next – a deeper faith, a better world, a stronger love in Christ our Lord.
Mark your calendars for Sunday, August 4, 2019 for The FEST.