The FEST 2019 Theme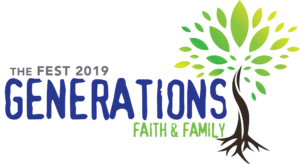 generation
noun
gen·​er·​a·​tion | \ ˌje-nə-ˈrā-shən \
Definition of generation
a body of living beings constituting a single step in the line of descent from an ancestor
a group of individuals born and living contemporaneously
the average span of time between the birth of parents and that of their offspring
The theme for FEST 2019 is Generations
The FEST has been blessed to help celebrate and impact a Generation of followers of the Lord.  We come together each year to celebrate what matters most – faith and family.  We use FEST 2019 to reflect on what is most important for us to pass on from one generation to the next – a deeper faith, a better world, a stronger love in Christ our Lord.
Mark your calendars for Sunday, August 4, 2019 for The FEST.
Generations Features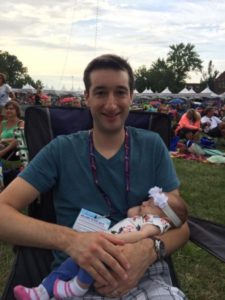 Take a closer look at what Generations of Faith & Family means to these families!
The FEST is an All-star Faith Family 
It seems appropriate that "Generations" is the theme of the 2019 FEST, noon to 10 p.m. Aug. 4 at the Center for Pastoral Leadership, 28700 Euclid Ave., Wickliffe.
Among the 40,000-plus expected attendees and 1,400 volunteers will be some multi-generational families who have volunteered at the free family event since its inception 19 years ago, including three generations of the Garvin and Formica families.
Tim Garvin said his 2-year-old son Peter has been around the event since he was an infant. "He had a FEST onesie," Tim quipped. He and wife, Ashley, welcomed a second son, Oliver, 6 months ago.
Tim's younger brother Joel, a University of Akron student, is a member of the Core Team. Other Garvin family members who volunteer include Pete and Mary Beth, their parents; and brothers Adam, Matt, Michael and Daniel. The Garvin sons range in age from 30 (Tim) to 19 (Joel).
As longtime volunteers, the jobs they've tackled include supplying water and ice, being stage hands, building the stage, running stage security (Adam), managing golf carts and radios (Tim), grounds work, packing mom's giveaway bags, driving courtesy carts (Mary Beth) and summer office staff (Joel).
"In 2014, Adam, Matt and I were all engaged to be married to our now-spouses — Stephanie, Emily and Ashley, respectively. We convinced them to come volunteer with us and they were referred to by The FEST staff as 'the fiancées' for the duration of the pre-FEST setup," Tim quipped.
Louise recalled helping with the first FEST, which she said Father Bob Stec — who at the time was diocesan vocations director — launched to welcome the diocesan contingent home from their trip to Rome for World Youth Day. "It was called 'Home from Rome.' Father Bob didn't want to lose the momentum," Louise said. The event attracted about 3,000 people.
"My family has helped since day one," she said.
Louise is part of the Core Team, serving as activity coordinator. In addition to her full-time job as secretary at St. Justin Martyr Parish in Eastlake, she spends as much time as possible at The FEST office at the CPL, often accompanied by other family members, including some of her five grandchildren, who range in age from 5 to 22. She said they help sort beads, cut out items and do other tasks for the activities and crafts.
"My mom volunteered until she was about 90," Louise said. Other family members who rolled up their sleeves were her late husband, Pete, and her three children, Anthony, Nikki — who did graphics — and Natalie.
"The FEST is a little glimpse of God's kingdom. All of us come together and build up the City of God. It only happens because of wonderful people working together to create this great day of faith, family and fun — all for free." Louise said. "And I want to give a big thank-you to those who still help. It's awesome and fun working with the whole family. We built a community that just kept on growing."
Find the original article HERE!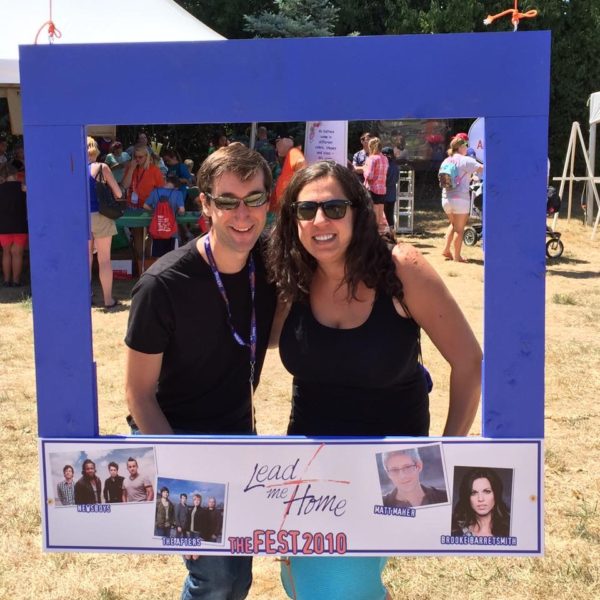 More Than Just a Day
Since its inception 19 years ago, the goal of The FEST has been to inspire and energize teens, young adults and families in the Northeast Ohio region – not just for one day, but for the entire year.
For many, like long-time FEST volunteer and team member Todd Kooser, it has done just that. Kooser got his start as a FEST volunteer in 2005, and served on the core team until 2011. Today, he is still involved as a volunteer and assists with planning The FEST Mass.
"[The FEST] has definitely impacted my life. It was a big part of my discernment process when I was in the seminary," Kooser said.
During his senior career experience in high school, Kooser shadowed then-vocations director and creator of The FEST Rev. Bob Stec. Stec, who still leads The FEST today, created the event in 2000 as "Home from Rome," a World Youth Day reunion.
After his shadowing experience, Kooser stuck around. "I worked the The FEST every summer after that," he said. His roles ranged from stage and band work – driving bands in from the airport and working with their management teams – to designing and building early versions of The FEST website.
"At least in my life, God kind of showed me where He wanted me to be by putting me into situations, and the FEST was a big part of that. It showed me what I was good at, and what I wanted to do."
Kooser now works in technology and web development, and had the opportunity to explore these early interests in the world of The FEST.
In his time with The FEST, he notes two years that stand out as most memorable.
"2006 was the first one I was on the team for. A lot of growth happened in that year – realizing all that I was capable of, rising to the challenges. I was the guy working with Steven Curtis Chapman and his management. Getting challenged and doing that was definitely an opportunity to grow."
2010 was another noteworthy year for Kooser.
"I had just started dating the woman who is now my wife," said Kooser. "My mom didn't know that at the time," he laughed.
Both women were helping Kooser at The FEST that year, and the two inevitably met. Despite any initial awkwardness, the rest is history – Kooser and his wife now have three young children.
"Our oldest kid just turned six. They've definitely been to The FEST every year since they've been born," Kooser said.
Like many who attend The FEST, Kooser has been able to pass on the traditions of faith to his own family. He's seen it in other ways as well.
"I was around when we did the 10 year anniversary. You could see people who were just little kids at the beginning growing up and becoming members of the FEST team. You could see the torch being passed from generation to generation."
Above all, Kooser says he is most grateful for the friendships and community that he has gained through The FEST. He says it's helped him to stay involved with the Church.
"The FEST has been more about the people than anything else that goes on – it's about bringing people together. It's about the community that we build. It's more than just a day."
Here's a few things YOU have to say about The FEST!
"This will be mine and my Mom's second year coming. It was an incredible experience last year that really brought us together!"  – Julie U.

"I'm excited to spend the day with my mom as a last summer event before I start my first year at college." – Quintessa V.

"This will be my 4th year driving down from Detroit with my sister and our children, such a wonderful experience every year we have decided to make it an annual family event. Our mom joined us last year for the first time and loved it. Can't wait to just be in a place where you feel like you're among your people! The body of Christ! The faithful! Thank you for hosting this amazing experience year after year!" – Krystina D.

"Casting Crowns is my 3 kids' favorite band and there is something very powerful when you watch your children praising and worshiping Christ!! As a Mom that is what I want, my children to follow Christ." – Samantha K.
Share your thoughts with us!