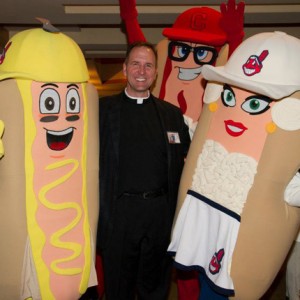 Father Bob Stec
Fr. Bob is a priest of the Diocese of Cleveland. He has had the privilege of leading and coordinating The FEST team since its beginning in 2000. He believes that The FEST is a great way for us to spread the Good News of Jesus Christ and to celebrate our Catholic faith. In addition to his work with The FEST, he is the Pastor of Saint Ambrose Parish in Brunswick, OH (www.StAmbrose.us) and leads a mission community in the Dominican Republic (www.MissionPossible.us).

Jake Bihari
Jake has worked on the FEST Team since 2007, and is Father Bob's right hand man. And if you know anything about Hurricane Stec, you know Jake's job is always moving at a fast pace! Jake helps to handle all of the ins and outs of the FEST, and loves that faith brings so many people together. When he's not dominating FEST world, you can find him in the mission field in the Dominican Republic. Jake graduated from Ursuline College in 2014 and is passionate about continuing mission work, serving others and making a difference in the world. Jake is fluent in Spanish, English and #hashtag.

Caitlin ONeill
Caitlin has been attending the FEST since 2005 and loves seeing everyone come together to celebrate their shared faith. Caitlin helps with various areas of the FEST including the raffle, vendors, and day-to-day tasks. When she's not working for the FEST, Caitlin works at Saint Ambrose Parish in Youth & Young Adult Ministry and Adult Faith Formation. Caitlin graduated from Mercyhurst University in 2014 and loves soccer, service, country music, and spending time with family and friends.

Helen Lanzarotta
Helen has been attending the FEST for ten years and has been part of the team for 3 years. She assists with the Liturgy and is responsible for the Art and Environment of the FEST Mass.  She is currently employed at St. Ambrose as the Music Ministry Assistant to Tom Bonezzi.  Her interests include playing golf when she has a chance; loves the theater and going to plays and musicals; enjoys working with children, helping them to grow in their faith through music and PSR programs.  Her favorite thing about the FEST is the variety of popular bands and the feeling of looking out into the crowd and seeing thousands of people all coming together at Mass…priceless!

Louise Formica
Louis serves as an Activity Coordinator and a vital member of the FEST Core Team. Her interests include photography, anything outdoors/organizing and helping with different events for others. Louise's favorite thing about the FEST is helping new teens, families and groups get involved with the FEST to be able to share their gifts and talents for the love of God!

Christie Cereshko
Formerly and forever known as "Denk", Christie's job for the FEST is to design all the awesome graphics, website and literature for the event. Everything you see or read about the FEST, Christie has put together. When she's not designing out of this world graphics for the FEST, you can probably find her riding elephants or feeding tigers in Thailand. She has an adventurous spirit, love for the outdoors and great care and love for others.

Catherine Rainey
Catherine has been a part of the FEST team since 2016, and been attending since 2011. She helps out with marketing and coordinates volunteers for the day of the FEST. She graduated from Mercyhurst University in 2017 with a degree in Communication. Catherine loves the energy, inspiration, and teamwork that go into creating the FEST each year, and seeing it all come to life for thousands of people to enjoy! She loves to do artsy things, spend time with friends and family, and has a huge sweet tooth!

Sean
Sean has been involved with the FEST since 2014, when he first experienced everyone coming together to celebrate their faith at FEST Chosen. In his five years with the FEST, Sean has come to be known as the person most likely to rearrange and organize everything in sight as he is always looking to find order in the sometimes-hectic FEST world. In his free time, he loves to volunteer with Special Olympics and other nonprofit organizations. Sean is completing his undergraduate degree in Sport Management from Mount St. Mary's University, and he will be attending Case Western Reserve University in the fall where he will be working towards a Master of Nonprofit Organizations.

Matt McCroskey

FEST INTERN
Matt McCroskey is a rising sophomore at Capital University, Currently majoring in Music Technology and really super duper hoping to double major in Electronic Media and Film! This is his second year being on the FEST team, assuming the duties of video producer for the FEST website, running around Cleveland and beyond with Amanda Farinelli, and overall being a cool and positive guy and member of the FEST team. Matt's favorite part about the FEST is seeing thousands of people come together from all over the area to celebrate their faith. If you have any future ideas for FEST videos or just want to send him a quick "Hello!" feel free to e-mail him at mmccroskey@thefest.us

Jessie Dobrzynski

FEST INTERN
Jessie is excited for her second year on the FEST core team! She is a freshman at Edinboro University studying Speech and Hearing Sciences. In her free time, Jessie loves singing, traveling, and spending time with family and friends. Jessie has been going to the FEST since she was 2 years old, and can't wait again for this year! Jessie's favorite part of the FEST is FEST week!

Dinah Sammon

FEST INTERN
Dinah is a senior at Cleveland State University majoring in Communication Management and double minoring in Business Administration and Studio Art.  She is very involved at school as she serves as President of her sorority, Alpha Sigma Alpha, Vice President of Standards on the CSU Panhellenic Council, and President of a campus organization titled Student Advocates for a Veg. Ethic.  In her limited free time, she enjoys volunteering in the Cleveland community, exploring new places, and unwinding at the end of the day with a nice fall scented candle and yoga.  This is Dinah's fourth year attending the Fest and her first time as an Intern.  She is so excited to see what this experience will bring her!