Visit all of our sponsor & vendor tents!
The Catholic Cemeteries Association is committed to ministering and assisting families before, during and after the death of a loved one. Our Catholic faith gives us the strength and courage to help us in our grieving and reminds us of the promise of the spiritual reunion with our loved ones.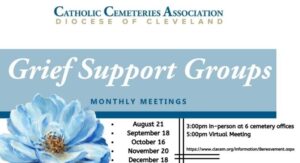 Looking for FEST Sponsors!
We are looking for sponsors and vendors for FEST 2023.  Take a minute and think of a company – and/or vendor – who would be a great partner for The FEST. 
All you need to do is send us a good contact name/phone number and the company and we will take it from there.
Please let me know your suggestions and contact info for vendors and sponsors (frbob@theFEST.us). 
We need YOUR help to make this the best FEST ever!!!
Book of Remembrance
Share a Special Prayer or Intention
We will conclude The FEST with an outdoor Mass at 8:00 PM. Bishop Edward Malesic will be presiding the Mass and he will hold you in special prayer and intention at The FEST Mass. If there's a loved one you would like remembered as part of the Mass, please add their name to the Book of Remembrance using the form below.
Sponsored by Catholic Cemeteries

Become a Friend of The FEST
Just add your email and hit subscribe to stay informed.