Big Daddy Weave
Performing at The FEST 2023 on Sunday, August 6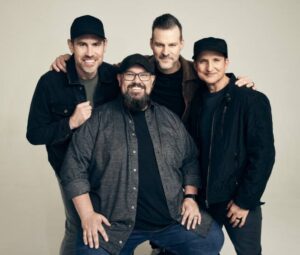 Known for honest songs that tell personal stories of freedom in Christ, Big Daddy Weave fans have long admired the band for their real-life, real-person openness. Millions have taken their anthems of Jesus's chain-breaking love as their own and sung along to songs about the radical act of redemption.
The men of Big Daddy Weave – Mike Weaver (lead vocals, guitar), Jeremy Redmon (guitar, vocals), Joe Shirk (saxophone, keys, vocals) and Brian Beihl (drums) – find themselves answering the call to minister through music and word both live and in new songs and recorded music being created now. Big Daddy Weave's testimony is about a deep and personal faith in Jesus, no matter the circumstances.
Their music has achieved multiple No. 1 singles, received "Song of the Year" at the first annual K-LOVE Fan Awards, and earned Dove Award and Billboard Music Award nominations. Big Daddy Weave's song catalog has an astounding 486 million career on-demand streams. They have amassed more than 1.6 million units in album sales and have received numerous honors, including a Dove Award, ASCAP and BMI Awards, and the prestigious Rich Mullins Artist Impact Awa.
Become a Friend of The FEST
Just add your email and hit subscribe to stay informed.