The Theme for FEST 2017…A Full Life
This year's theme takes us back to the early days of The FEST. A FULL LIFE is the promise of the Lord. Any time we say 'yes' to the Lord and allow ourselves to embrace God's call and do the work of the Lord, we find God's grace and blessings – in abundance. In our 'yes', our lives are full (and even busy) – and abundantly blessed by a very good and gracious God. So… FEST 2017 takes us back to the beginning when the seminary used the theme – A FULL LIFE.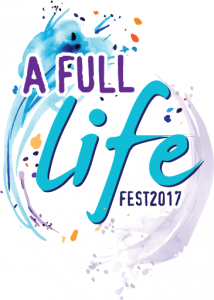 What does "A Full Life" mean to you?
To me, a full life means giving thanks for all of the blessings that I have in my life and remembering my faith, despite all of the business in my life! Two examples of this would be: 1. Finding time to volunteer and be involved in the community 2. Always staying involved in the church by attending services, singing at mass, and helping at other programs  – Jessie D.
When I think of "Full Life", I think about someone who is full of life. To me, that means that you are ready for anything…you take the "it is what it is" "what happens, happens" outlook on life. You go for the positive side for every mishap and misfortune…and say "it will all work out in the end". Basically, to live a full life, you love and live life to your fullest. You could die tomorrow and have no regrets because you are living your life to the fullest. You know that God is present in your life and if you do his will and follow him, things will work in your favor. You don't worry about what the next day will bring…because no matter what you are going to make the best of it! – Tyler K.
A full life means making the most of what you have and being the best person you can be. Nelson Mandela once said, "There is no passion to be found in settling for a life that is less than the one you are capable of living."
Being involved with The FEST has showed me firsthand what "A Full Life" truly looks like – getting to witness thousands of people coming together and using their unique gifts and talents to say "yes" to God and in turn, seeing the countless ways God has blessed each "yes." The more we empty ourselves out in service to others, the more room we have for the "full life" God promises. – Caitlin O'Neill
Living a full life means living with an open heart and an open mind – saying yes to service and yes to God's call to experience a life fully lived. – Jackie Swinerton