The FEST in Wickliffe, OH
The FEST is a one-day, FREE family festival for all ages held in WICKLIFFE, OHIO. Enjoy live, national Christian bands on stage, entertainment, games, BMX shows, kids' areas, opportunities for inspiring prayer, tents with vendors from all over our area, giveaways, and your favorite festival foods. At 8:00 PM, join in the highlight of the day...an inspiring outdoor Mass shared by thousands! Of course, the day wouldn't be over without an incredible fireworks display!
Throughout its history, The FEST has truly become a one-of-a-kind regional event. People from all over Northeast Ohio and beyond eagerly look forward to The FEST each year! The FEST began in August of 2000, where just under 5,000 people attended. Now, twelve years later, the attendance has reached 35,000! Find out why so many people keep coming back!
Testimonials
!
More questions? Check out our FAQ page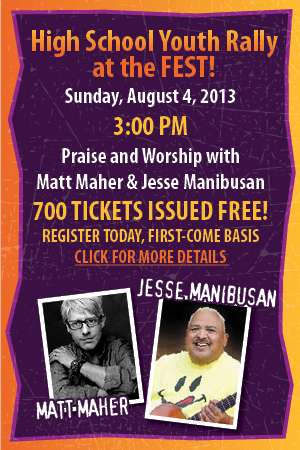 GOAL for 2013: 10,000 LIKES!
FEST Drawing Contest
The FEST Media Kit
The FEST truly would NOT be possible without your support. Please use these tools to help spread the word about the FEST. Invite your family, friends, co-workers and clients for an entire day of fun at no cost! Parking, festival entry, live bands...it is all FREE! Click the image to download official FEST files.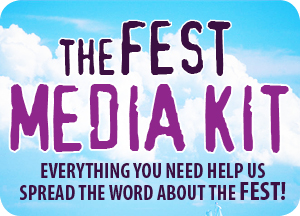 .
FEST 2013 Highlights
▶
Day-long live music
performed by national and local Christian bands on the mainstage
▶ Exciting interactive areas for
children and teens
to teach Gospel lessons
▶
Great food
at affordable prices with fast lines and great selection
▶
MARC'S Fresh Fruit Market
▶ Come see the
world's largest grill
filled with Johnsonville Brats
▶
Over 100 activity tents
and display booths, helpful information, and giveaways
▶ Easy access parking and shuttle buses on Euclid Avenue (All within a ten minute walk of the mainstage)
▶ BMX Show, live music, entertainment, and exciting games in the
MARC'S ACTIVITY ZONE
▶ NEW THIS YEAR… Come and experience an incredible
Youth Rally!
See website for info.
▶ Notre Dame College will give away a
$10,000 Scholarship
(4 year scholarship totaling $40,000)
▶ Stop by the
Mom's Relaxation Station
presented by MARC'S and 95.5 The FISH, where moms can find over 120,000 giveaways, along with great presentations and helpful tips for home and family.
▶ Don't miss the
FISH Zone
presented by 95.5 The FISH
▶
Pathways to Healthy Living
by Medical Mutual
▶ Opportunities for
personal prayer
, the Sacrament of Reconciliation, Eucharistic Adoration, and the Rosary
▶
Education Village
showcasing Catholic education
▶ Take the
Pope Francis Service Pledge
!
▶ Tour Borromeo and Saint Mary Seminary
Festival Countdown
<!-Countdown Clock widget - HTML code - mycountdown.org --><!-end of code-->
FEST Volunteers!
Thank you for your interest in being a volunteer at the FEST 2013! The FEST Volunteer sign up form will be available soon. We will notify everyone by eblast, Facebook and Twitter the second you can sign up! Thanks!
.
Main Stage Line-Up!
12:00 FEST Grounds Open
1:30 Matt Maher
3:00 Jamie Grace
4:30 For King & Country
6:00 Casting Crowns
8:00 Outdoor Mass
10:00 American Fireworks
(Times subject to change, check website.)
.
The FEST 2013 Teaser
FEST Mom's Relaxation Station!
TEXT The FEST!
NEW to the FEST! Connect with The FEST on your phone by texting "theFEST" to 25827. Once connected, we will send you timely tips on living a life of JOY. It's easy to do and easy to opt out of if you find that these occasional and timely tips are not a help to you. Spread the word about The FEST...and text: "theFEST" to 25827. You will be happy you did!!
Search the FEST site!